storage of hazardous substances
Spill pallets from CEMO
Spill pallets have become an indispensable component in the storage and transportation of water-polluting and flammable liquids. For active and passive storage, the CEMO range has spill pallets made of different materials. Depending on the number, size and contents of the containers to be stored, special requirements and regulations need to be observed.
With CEMO, you get to benefit from 60 years of experience - and spill pallets that offer you increased safety when going about your work.
to the product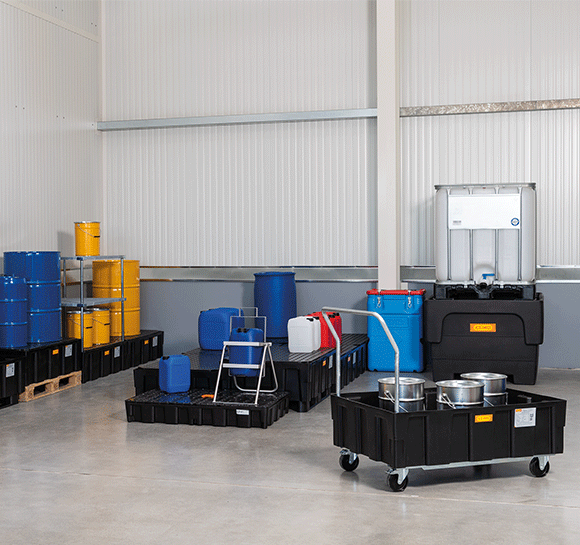 PE spill pallets for chemical resistance
We manufacture PE small container and laboratory tubs with general building authority approval Z-40.22-548 and Z-40.22-549 from 100 percent recyclable polyethylene. For space-saving storage, our laboratory and small container trays can be stacked and used with or without grating.
PE pallet spill pallets and PE drum spill pallets have a high degree of chemical resistance. In different sizes and designs, our tray systems can be used in many different ways. For example, loaded trays can be easily and efficiently driven under with a forklift or high-lift truck. Polyethylene is extremely robust and durable, this means that trays made from PE last for years.
With matching lattice grids, our tray systems can be extended to form area protection systems of any size - with a matching drive-on ramp if required. The modular construction system allows variable use according to your needs.
Steel spill pallets for flammable substances
Steel spill pallets ensure the storage of water-polluting and flammable liquids. CEMO can provide you with galvanised or coated steel spill pallets for up to ten drums. No matter for which application you need high-quality and safe steel spill pallets, with CEMO's wide range of products you are guaranteed to find the right quality product for you. We would be pleased to advise you in person.
Steel IBC spill pallets are designed for the storage of large containers such as KTC/IBC, ASF and ASP containers up to 1,000 litres. With removable gratings and 100 millimetres ground clearance, they guarantee safe transportation
With mobile and TÜV-certified spill pallets made of steel, you get to enjoy complete safety when storing hazardous substances. Hot-dip galvanized, removable grids, two swivel and fixed castors and the push bar for easy positioning guarantee both comfort and flexibility
Whether as a warehouse or transfer station, area protection systems made of steel can be assembled on a modular basis and according to individual requirements. Each individual element is available galvanized or coated, depending on requirements, with drip volumes between 49 and 220 litres and removable grating. The matching connecting elements make assembly simple and safe. This means that surfaces of any size can be designed.
GRP spill pallets for versatile use
Whether for small containers, drums or IBCs, spill pallets made of glass fibre reinforced plastic are universally applicable and offer the best conditions for storing environmentally-hazardous substances. Our GRP trays impress customers thanks to their high chemical resistance and are particularly versatile in terms of usage. CEMO has the perfect spill pallets for your application in all common sizes and variations.
GRP is 100 percent corrosion resistant. This means that high-quality GRP trays from CEMO can be placed directly on the floor. With their low dead weight and high durability, GRP trays prove to be extremely practical and sustainable in daily use.
The new pallet and drum spill pallets from CEMO

DT-Mobil COMBI - Refuel always and everywhere
Make yourself independent with a mobile COMBI filling station for diesel and AdBlue®.
To the article
Safe storage of hazardous substances with products from CEMO
The protection of people and nature is a top priority for CEMO. This is why the safe storage of hazardous substances, such as fuels and lubricants, lies at the heart of everything we do. CEMO develops products for the storage of hazardous substances that meet all the legal requirements and combine safety with practical use and excellent manageability.

As a pioneer in the field of hazardous materials storage, you can expect modern storage container technology, the highest quality and excellent service from us. We understand the requirements that apply to the materials you need to store and can supply you with a product that is tailor-made to your needs.
Legal requirements for the storage of hazardous substances
Highly flammable, toxic, corrosive, explosive and harmful substances are considered hazardous substances and are subject to special legal requirements. Since such substances are used in numerous industrial plants, the safe storage of hazardous substances is a relevant topic across all sectors.

Laws, standards and accident prevention regulations are there to ensure the proper handling of hazardous substances. Depending on the substance, quantity and hazard assessment, different safety measures need to be taken. The separate storage of flammable materials and the use of storage techniques that comply with legal regulations and design approvals are always part of the requirements. CEMO has been active in the field of hazardous material storage for decades and is therefore a proven expert in the production of safe and legally-compliant storage techniques.
The wide range of CEMO products for the safe storage of hazardous substances
We can provide you with an extensive range of diverse products for the safe storage of hazardous substances that meet all the legal requirements. From drip trays, barrel racks and tanks to cabinets and containers, CEMO can supply you with the right solution for every need. We have the appropriate storage technology for both indoor and outdoor applications.

Our products made of GRP, PE and steel meet all the safety requirements and thus enable you to store hazardous substances in accordance with regulations and in a space-saving manner. We also supply accessories and extension units to match our storage technology.

Our team will advise you in all questions concerning the storage of hazardous substances and offer you a comprehensive service. Trust in the experience and know-how of CEMO when it comes to the storage of hazardous substances.