Winter maintenance
Mobile, robust, versatile: The Go-Box in winter
Every season has its surprises - especially winter. With our mobile, robust and versatile Go-Box you are prepared for all situations: Rough terrain? Narrow passageways? Long paths? Our Go-Box was made especially for tricky and demanding challenges in everyday work. When it comes to dealing with ice and snow, even winding paths and alleys can be reached with this agile and lightweight companion.
To the product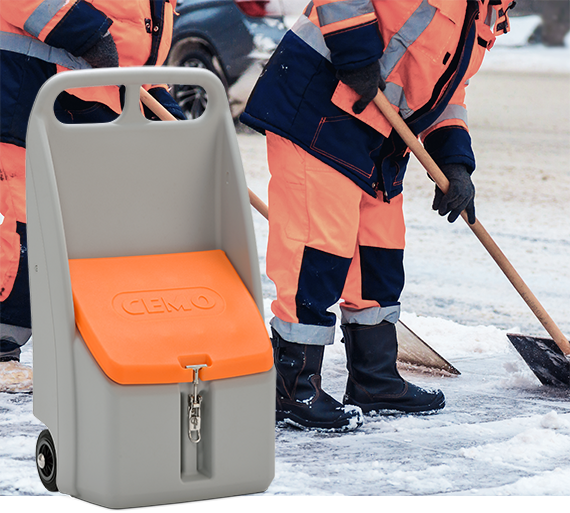 Compact, agile design - numerous extras
The angled cover for the water drain, the stainless steel eccentric closure and a user-friendly, ergonomic handle - it is the multitude of extras that turn a work tool into a CEMO-quality product. With the optional partition wall for clamping in, you can transport a variety of gritting materials in the Go-Box. This agile all-rounder is reliably at your side during winter road maintenance and helps to ensure that everything is in place quickly and safely.
Quality features of the Go-Box
Sturdy rubber wheels

Angled cover for the water drain

Stainless steel eccentric closure

Padlock (accessory)

User-friendly, ergonomic handle
Locking lid for loading and unloading

Easy handling due to good balancing

Easy to clean

Made of resistant and recyclable polyethylene

Partition wall for clamping in (accessory)

70 litre loading capacity

DT-Mobil COMBI - Refuel always and everywhere
Make yourself independent with a mobile COMBI filling station for diesel and AdBlue®.
To the article
Be completely prepared for the winter, with professional winter road maintenance products from CEMO.
As soon as the first snow falls or freezing water becomes a danger to motorists and pedestrians, winter road maintenance is indispensable. Working in snow and ice is a particular challenge and can be made much easier with professional and practical winter road maintenance products.

This is why CEMO offers you a wide range of grit containers, gritters and shovels that are both powerful and functional, thus ensuring not only efficiency but above all the safety of people and the environment.
Versatile products for use in snow and ice
At CEMO, you will find versatile products for professional winter road maintenance. Our gritting material containers in various sizes, for example, protect the gritting material from external influences and, thanks to vandalism lids, are resistant even under extreme conditions. The same applies to our gritters, which also have to meet high material and processing demands due to contact with aggressive substances. Whether for small or large areas - CEMO's winter road maintenance products are suitable for every application in snow and ice.

The advantages of our winter road maintenance products at a glance:
High level of safety due to first-class materials
Effortless work thanks to intelligent product design
Long durability of all winter road maintenance products
Large product selection for individual solutions
Long durability even under tough conditions
Our products for winter road maintenance are convincing even under the toughest conditions and are perfectly suited for long-term use in adverse weather conditions. High-quality materials and first-class workmanship ensure safety, stability and durability. A service life of 20 years and a guarantee period of 10 years are, for example, the common standard for our gritting material containers.

In addition, we also focus on the practical benefits and work simplification of our winter road maintenance products. That is why CEMO's grit containers, gritters and shovels will surprise you with clever little details. For example, a particularly ergonomic handle on our GRP snow shovel ensures optimum use of physical strength and fatigue-free working as a result.

Opt for CEMO's professional winter maintenance products and brave snow and ice even under tough conditions.