Winter road maintenance
Gritting material containers: The classic from CEMO
For years now, the gritting material containers from CEMO have been adorned our urban and country landscapes. They are frequently used on slopes, large squares and long flights of steps. There, they protect the grit from the weather and dampness - and they do so all year round. If required, the gritting material for winter road clearance can be removed. Citizens can also use gravel and sand from public grit containers to protect pavements and roads from snow, black ice and the risk of accidents. With CEMO's grit containers, winter can throw everything it has at us.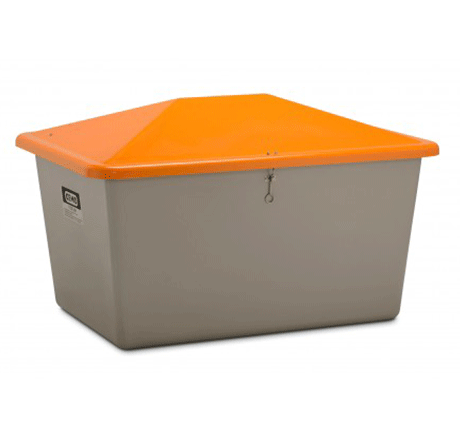 Gritting material container made of GRP with guarantee
Our grit containers with orange lids are made of glass fibre reinforced plastic. With the cover removed, they can be stacked during storage and retrieval. This saves you a lot of space wherever this is at a premium. The moulded container rim prevents the penetration of dirt and moisture. The smooth inner wall of the container allows emptying and cleaning without leaving any residue. GRP is corrosion and weather-resistant; this means that our grit containers last for 20 years or more. No matter which size you go for, with CEMO you get a 10 year full guarantee.
To the product
Gritting material container with vandalism cover
The material GRP is extremely durable, dimensionally stable, rust-free, salt-resistant, temperature-resistant, UV-resistant, corrosion-resistant and easy to repair. For critical locations, such as in city centres, railway stations or on event sites, we recommend upgrading with the vandalism cover. This was specially developed to withstand practically everything - even brute force. The vandalism lid with increased its wall thickness is available for containers from 550 and 700 litres and in the colour green - with orange lid.
Choose your preferred size
550 litres
700 litres
To the product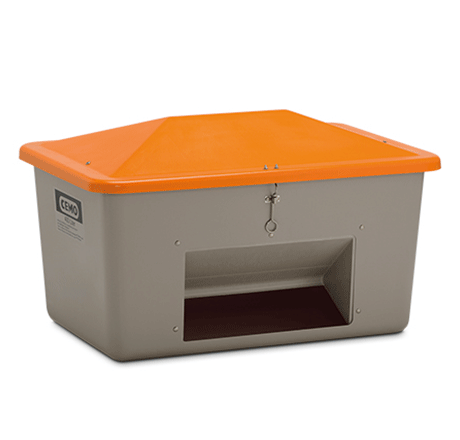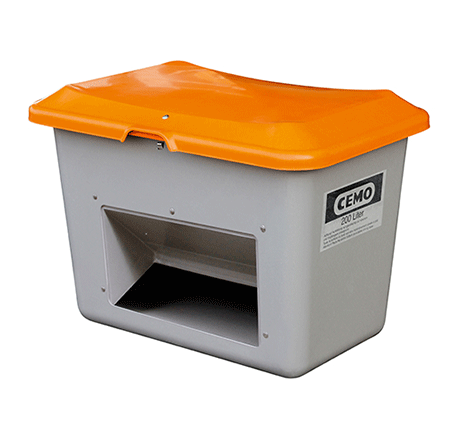 New Plus3 gritting material container
Because fast and practical handling is the most important criterion for winter road maintenance, the new generation of grit containers provides you with new extras: Plus3 containers can optionally be accessed from underneath by a pallet truck or forklift. This saves time and energy. Thanks to the stable and resilient lid shape, all containers are stackable when the lid is closed The cover can be removed completely without tools. The 400 litre container also has an integrated support rod. Last but not least, Plus3 grit containers are available in green or grey with an orange lid.
Choose your preferred size
100 litres
200 litres, optionally with removable retaining straps on the lid
400 litres with integrated support rod for the lid
1100 litres
To the product

DT-Mobil COMBI - Refuel always and everywhere
Make yourself independent with a mobile COMBI filling station for diesel and AdBlue®.
To the article

Separate the storage and charging of lithium batteries
Perfect protection with safe storage and transportation systems from CEMO.
To the article
Be completely prepared for the winter, with professional winter road maintenance products from CEMO.
As soon as the first snow falls or freezing water becomes a danger to motorists and pedestrians, winter road maintenance is indispensable. Working in snow and ice is a particular challenge and can be made much easier with professional and practical winter road maintenance products.

This is why CEMO offers you a wide range of grit containers, gritters and shovels that are both powerful and functional, thus ensuring not only efficiency but above all the safety of people and the environment.
Versatile products for use in snow and ice
At CEMO, you will find versatile products for professional winter road maintenance. Our gritting material containers in various sizes, for example, protect the gritting material from external influences and, thanks to vandalism lids, are resistant even under extreme conditions. The same applies to our gritters, which also have to meet high material and processing demands due to contact with aggressive substances. Whether for small or large areas - CEMO's winter road maintenance products are suitable for every application in snow and ice.

The advantages of our winter road maintenance products at a glance:
High level of safety due to first-class materials
Effortless work thanks to intelligent product design
Long durability of all winter road maintenance products
Large product selection for individual solutions
Long durability even under tough conditions
Our products for winter road maintenance are convincing even under the toughest conditions and are perfectly suited for long-term use in adverse weather conditions. High-quality materials and first-class workmanship ensure safety, stability and durability. A service life of 20 years and a guarantee period of 10 years are, for example, the common standard for our gritting material containers.

In addition, we also focus on the practical benefits and work simplification of our winter road maintenance products. That is why CEMO's grit containers, gritters and shovels will surprise you with clever little details. For example, a particularly ergonomic handle on our GRP snow shovel ensures optimum use of physical strength and fatigue-free working as a result.

Opt for CEMO's professional winter maintenance products and brave snow and ice even under tough conditions.