CEMO Knowledge
Durable, low-cost, resource-saving: The advantages of GRP
Plastic and sustainability go together perfectly when this involves high-quality, glass fibre reinforced plastic. GRP is characterised by extreme durability and has become a low-cost alternative to steel, aluminium and copper. Whether in laboratory technology, in vehicle construction or in the storage of hazardous substances, GRP's numerous advantages make it a truly convincing material. Find out everything there is to know about this sustainable plastic.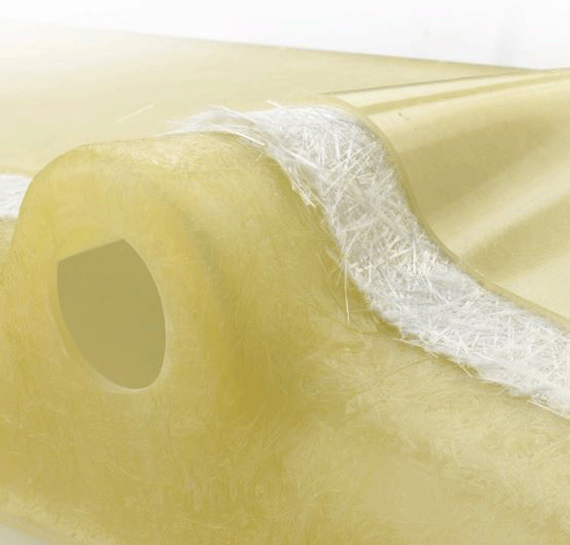 What exactly does GRP consist of?
GRP is a material made of plastic and glass fibres, i.e. a fibre-plastic composite. Components include glass fibres and either epoxy resin, vinyl ester resin or polyester resin. The resin determines the shape of the final product and makes it flame retardant. The glass fibres ensure high stability.
How is GRP produced?
GRP products are manufactured by means of a variety of processes: by pressing, vacuum injection, fibre winding, spinning, hand laminating, spraying or extruding. Depending on the process, fibre mats or glass fabrics are inserted into viscous resin. The material is formed into the desired shape and hardens.
Where is GRP used?
From vehicle parts, to tank systems to the playground slide - the possibilities for using GRP are endless. In the 1930s, GRP was first used for the insulation of houses, and later also for the construction of aircraft. Thanks to its low weight, GRP can be used in lightweight construction - among other things because lightweight products consume less energy Today, GRP is a widely used material: sports cars, aircraft, wind turbines, containers in plant construction, insulators, switch cabinets, pipes, grit containers and bathtubs are just a few examples in which GRP is indispensable. The versatile ways in which GRP can be used is another quality feature and trademark.
What are the advantages of GRP?
Even the production of the fibre composite material requires less energy than that of concrete, aluminium or steel. Furthermore, GRP has a long service life, and it is stretchable, stable, very light and does not rust. Cracks or dents are only caused by external influences and are easy to repair. GRP products are therefore low-maintenance and cause low operating costs. Their excellent corrosion behaviour also means that hazardous substances can be stored in GRP containers without any problems The good compatibility with the environment and low costs in production and processing especially make GRP a material to which the future belongs.
Robust material for your winter road maintenance service
Especially in very hard winter months, robust products made of GRP pay off. CEMO can provide you with high-quality and durable snow shovels made of this versatile fibre composite material. These are extremely lightweight, weatherproof and the snow does not stick to them. This makes shovelling snow faster, easier and more productive. Try our shovels now.
Our gritting material containers are also made of corrosion-resistant GRP. Available in numerous sizes, designs and colours we are sure to have your preferred gritting material container in stock. Products made from GRP are also to repair, and they can last for decades, if not longer. With the extra robust vandalism cover, CEMO gritting material containers are able to withstand even the toughest conditions.
Materials and sustainability at CEMO
When it comes to materials, resources and raw materials, issues of sustainability lie at the heart of everything we do.
PE and GRP contain plastics that give our drums and tubs their desired functions such as durability and resistance. As a family business, we are aware of our responsibility towards our environment and future generations. That is why we are very respectful in terms of our production, processing and daily interaction. Why not see for yourself.

DT-Mobil COMBI - Refuel always and everywhere
Make yourself independent with a mobile COMBI filling station for diesel and AdBlue®.
To the article

Separate the storage and charging of lithium batteries
Perfect protection with safe storage and transportation systems from CEMO.
To the article
Be completely prepared for the winter, with professional winter road maintenance products from CEMO.
As soon as the first snow falls or freezing water becomes a danger to motorists and pedestrians, winter road maintenance is indispensable. Working in snow and ice is a particular challenge and can be made much easier with professional and practical winter road maintenance products.

This is why CEMO offers you a wide range of grit containers, gritters and shovels that are both powerful and functional, thus ensuring not only efficiency but above all the safety of people and the environment.
Versatile products for use in snow and ice
At CEMO, you will find versatile products for professional winter road maintenance. Our gritting material containers in various sizes, for example, protect the gritting material from external influences and, thanks to vandalism lids, are resistant even under extreme conditions. The same applies to our gritters, which also have to meet high material and processing demands due to contact with aggressive substances. Whether for small or large areas - CEMO's winter road maintenance products are suitable for every application in snow and ice.

The advantages of our winter road maintenance products at a glance:
High level of safety due to first-class materials
Effortless work thanks to intelligent product design
Long durability of all winter road maintenance products
Large product selection for individual solutions
Long durability even under tough conditions
Our products for winter road maintenance are convincing even under the toughest conditions and are perfectly suited for long-term use in adverse weather conditions. High-quality materials and first-class workmanship ensure safety, stability and durability. A service life of 20 years and a guarantee period of 10 years are, for example, the common standard for our gritting material containers.

In addition, we also focus on the practical benefits and work simplification of our winter road maintenance products. That is why CEMO's grit containers, gritters and shovels will surprise you with clever little details. For example, a particularly ergonomic handle on our GRP snow shovel ensures optimum use of physical strength and fatigue-free working as a result.

Opt for CEMO's professional winter maintenance products and brave snow and ice even under tough conditions.