Weed control
Chemical-free and effective: Weed control with hot water
Around 5,000 tonnes of the herbicide glyphosate are sold in Germany every year. The plant protection product is suspected of causing cancer. An effective alternative to chemical weed killers is hot water. Whether in parks, on playgrounds or pavements: hot water removes goutweed, dandelion and horsetail - quickly and in an environmentally-friendly manner.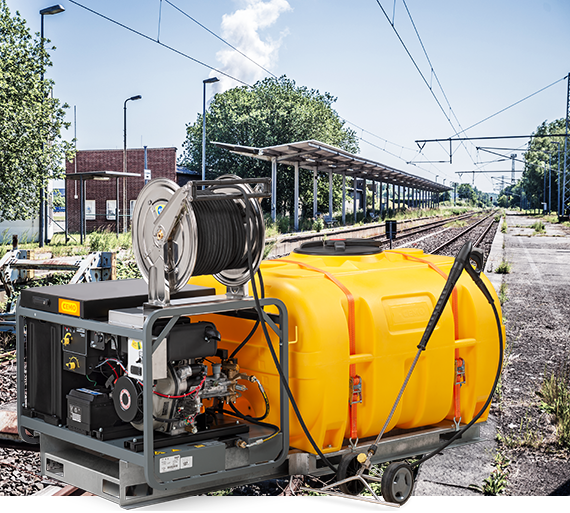 No chemistry
Pesticides and herbicides not only destroy unwanted weeds, they can also damage other plants. In addition, chemical weed killers can accumulate toxins in soil, water and crops. Ultimately, this is how the toxic substances get to end up in our bodies. Hot water, on the other hand, enables chemical-free weed removal - gentle on people and the environment.
Highly efficient
Hot water not only has a superficial effect, it also destroys the roots of the unwanted plants. The weeds are so damaged that they can no longer absorb sufficient nutrients and moisture and eventually die.
Uncomplicated application
Thermal weed killing is very simple. Hot water, for example, is heated by a mobile cleaning and weeding system and precisely sprayed onto public squares, cobblestones or pavements. About five applications are necessary in the first year. By the second year, less effort is required and it is sufficient apply the method three to four times a year. In practice, this method of weed killing can be used on a wide variety of surfaces and even in areas that are difficult to access.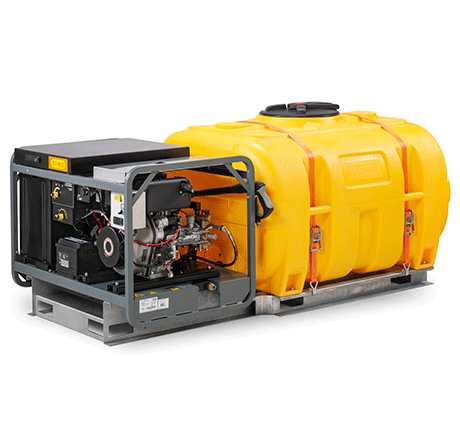 Weed control system
MCS 1000 HD

The MCS mobile cleaning and weed control system from CEMO allows you to work particularly flexibly. It can be used independently of the power and water supply, is available with a weed control lance and has a temperature sensor to ensure the ideal water temperature.
To the product

DT-Mobil COMBI - Refuel always and everywhere
Make yourself independent with a mobile COMBI filling station for diesel and AdBlue®.
To the article

Separate the storage and charging of lithium batteries
Perfect protection with safe storage and transportation systems from CEMO.
To the article
Mobile irrigation systems are suitable for the professional irrigation of larger areas and parks.
Medium sizes are suitable for use in gardening and landscaping as well for cleaning buildings. All units are completely assembled with motor pumps and swivel hose reels. GRP barrels involve irrigation systems with capacities of up to 6,000 litres.