Storage of hazardous substances
Surface protection systems: What to watch out for when making a purchase
Sump trays are an absolute must when storing hazardous substances. Because with a drip tray you can ensure that no environmental pollution is caused when hazardous liquids leak out. It's not always easy to string together a large number many drip trays to cover large areas: Gaps between the trays form a potential hazard, while setting up involves a significant level of effort or requires time-consuming conversions at the storage location. With surface protection systems, you get to avoid these problems and make even large storage areas safe. What you should pay attention to when buying such a system and what distinguishes a good surface protection system is explained in this article.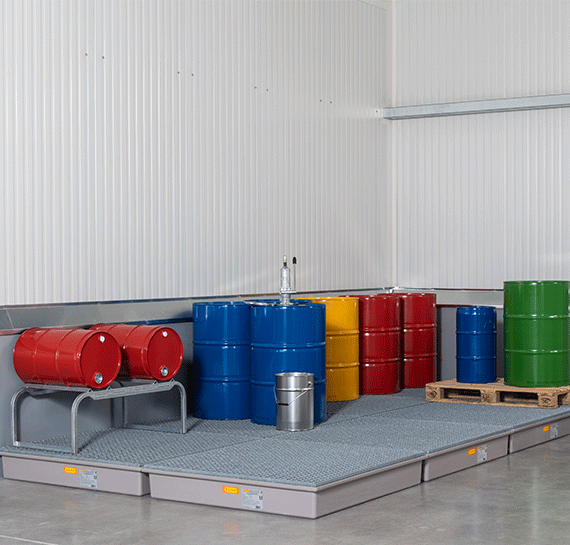 Know what you're looking for
Not all surface protection systems are the same. Depending on the type of material, you can store various hazardous substances on it. Surface protection systems made of polyethylene (PE) with general building authority approval are suitable for substances hazardous to water and are particularly resistant to acids and alkalis. Flammable liquids such as oil or petrol should be stored on steel surface protection systems , as these are fireproof.
Do you have special requests?
How flexibly can the surface protection system be combined? Is it also suitable for rooms with lots of nooks and crannies? Can it be easily extended? These are the questions you should ask yourself when buying a system. A good surface protection system can be adapted to your needs, for example with additional drip trays. If the storage quantity is reduced, you should be able to use the option of reducing the surface protection accordingly.
Is the retained amount sufficient?
Drip trays must be able to hold at least 10 per cent of the storage volume or the largest container size stored. In water protection areas, it is necessary for 100 percent of the stored quantity to be collectable. You should take this into account in the collection volume of the surface protection elements.
Ready? Just go for it!
Barrels, canisters and tanks stored on surface protection systems are usually very heavy. With an access ramp you can make loading of the floor elements an easier task. Ideally, the ramp should be at a comfortable height and not be too steep. When you buy a surface protection system, you should consider whether an access ramp can be added later.
Stable and robust
Safety first - even with surface protection systems. For this reason, the load capacity of the floor elements plays a decisive role. Connecting rails and retaining bolts ensure that the elements are safely combined. It is also particularly important to ensure that all elements are non-slip to prevent accidents.
New management team takes up work
Change of Managing Director at CEMO GmbH and strategic reorientation for the future
More information

Separate the storage and charging of lithium batteries
Perfect protection with safe storage and transportation systems from CEMO.
To the article
Safe storage of hazardous substances with products from CEMO
The protection of people and nature is a top priority for CEMO. This is why the safe storage of hazardous substances, such as fuels and lubricants, lies at the heart of everything we do. CEMO develops products for the storage of hazardous substances that meet all the legal requirements and combine safety with practical use and excellent manageability.

As a pioneer in the field of hazardous materials storage, you can expect modern storage container technology, the highest quality and excellent service from us. We understand the requirements that apply to the materials you need to store and can supply you with a product that is tailor-made to your needs.
Legal requirements for the storage of hazardous substances
Highly flammable, toxic, corrosive, explosive and harmful substances are considered hazardous substances and are subject to special legal requirements. Since such substances are used in numerous industrial plants, the safe storage of hazardous substances is a relevant topic across all sectors.

Laws, standards and accident prevention regulations are there to ensure the proper handling of hazardous substances. Depending on the substance, quantity and hazard assessment, different safety measures need to be taken. The separate storage of flammable materials and the use of storage techniques that comply with legal regulations and design approvals are always part of the requirements. CEMO has been active in the field of hazardous material storage for decades and is therefore a proven expert in the production of safe and legally-compliant storage techniques.
The wide range of CEMO products for the safe storage of hazardous substances
We can provide you with an extensive range of diverse products for the safe storage of hazardous substances that meet all the legal requirements. From drip trays, barrel racks and tanks to cabinets and containers, CEMO can supply you with the right solution for every need. We have the appropriate storage technology for both indoor and outdoor applications.

Our products made of GRP, PE and steel meet all the safety requirements and thus enable you to store hazardous substances in accordance with regulations and in a space-saving manner. We also supply accessories and extension units to match our storage technology.

Our team will advise you in all questions concerning the storage of hazardous substances and offer you a comprehensive service. Trust in the experience and know-how of CEMO when it comes to the storage of hazardous substances.