Storage of hazardous substances
Versatile and safe shelving systems from CEMO
Around 60 years of experience make us pioneers when it comes to safe storage. That's why we are able to provide you with a high-quality range of small container racks, drum racks and hazardous substance racks to support you in your daily work with environmentally-hazardous substances. With tested materials, the very best workmanship and technical finesse, our products ensure great and lasting satisfaction.
To the product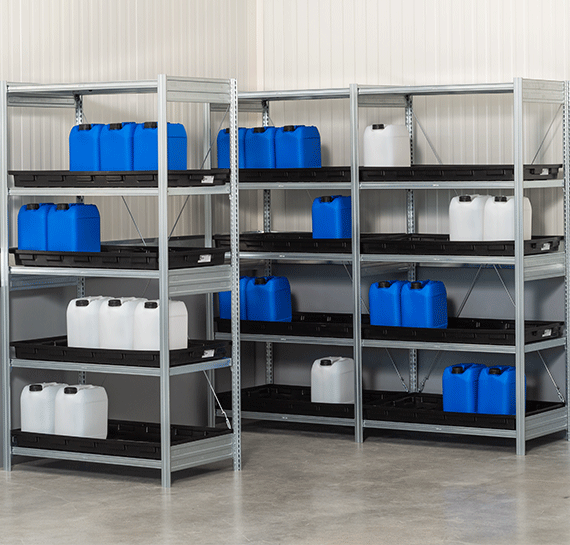 Flexible small container racks
Our small container racks can be used in a variety of ways according to your requirements. They offer space for two 60-litre drums or for two storage levels with small containers. A corrosion-resistant GRP drip tray with a drip volume of 65 litres is always included. No matter how you use our small container rack, with CEMO you are always on the safe side.
Heavy-duty drum racks
Our hot-dip galvanised barrel racks are truly impressive thanks to their simple and quick assembly. They are universally applicable, highly resilient and subject to minimum inspection. Drum racks for the correct and space-saving storage of drums and other containers are available from CEMO with corrosion-resistant drip trays made of steel or GRP. With suitable drum supports, they can even be used to store 200-litre drums.
Safe shelving for hazardous substances
Hazardous goods racks are used in many areas. CEMO has the hazardous materials shelf to meets your requirements and all the regulations. Choose the size and variant for your needs from our comprehensive range. As a modular system, our shelving systems can be expanded as required. Adjustable storage levels, versatile shelves and shelf trays also enable the safe storage of small containers.

Separate the storage and charging of lithium batteries
Perfect protection with safe storage and transportation systems from CEMO.
To the article

DT-Mobil COMBI - Refuel always and everywhere
Make yourself independent with a mobile COMBI filling station for diesel and AdBlue®.
To the article
Safe storage of hazardous substances with products from CEMO
The protection of people and nature is a top priority for CEMO. This is why the safe storage of hazardous substances, such as fuels and lubricants, lies at the heart of everything we do. CEMO develops products for the storage of hazardous substances that meet all the legal requirements and combine safety with practical use and excellent manageability.

As a pioneer in the field of hazardous materials storage, you can expect modern storage container technology, the highest quality and excellent service from us. We understand the requirements that apply to the materials you need to store and can supply you with a product that is tailor-made to your needs.
Legal requirements for the storage of hazardous substances
Highly flammable, toxic, corrosive, explosive and harmful substances are considered hazardous substances and are subject to special legal requirements. Since such substances are used in numerous industrial plants, the safe storage of hazardous substances is a relevant topic across all sectors.

Laws, standards and accident prevention regulations are there to ensure the proper handling of hazardous substances. Depending on the substance, quantity and hazard assessment, different safety measures need to be taken. The separate storage of flammable materials and the use of storage techniques that comply with legal regulations and design approvals are always part of the requirements. CEMO has been active in the field of hazardous material storage for decades and is therefore a proven expert in the production of safe and legally-compliant storage techniques.
The wide range of CEMO products for the safe storage of hazardous substances
We can provide you with an extensive range of diverse products for the safe storage of hazardous substances that meet all the legal requirements. From drip trays, barrel racks and tanks to cabinets and containers, CEMO can supply you with the right solution for every need. We have the appropriate storage technology for both indoor and outdoor applications.

Our products made of GRP, PE and steel meet all the safety requirements and thus enable you to store hazardous substances in accordance with regulations and in a space-saving manner. We also supply accessories and extension units to match our storage technology.

Our team will advise you in all questions concerning the storage of hazardous substances and offer you a comprehensive service. Trust in the experience and know-how of CEMO when it comes to the storage of hazardous substances.