Storage of hazardous substances
Safety and environmental cabinets from CEMO
CEMO has developed special environmental cabinets, safety cabinets, room containers and battery safety cabinets for the safe and proper storage of environmentally-hazardous substances in buildings. Made of high-quality sheet steel or corrosion-resistant PE and equipped with clever details, our cabinets and containers are real winners on a daily basis. Play it safe - with CEMO.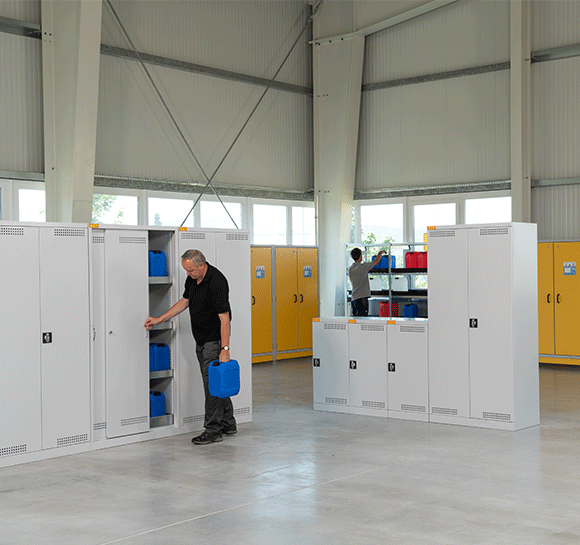 Environmental cabinets from CEMO
Whether for the storage of canisters, barrels or small containers, environmental cabinets are available from CEMO to meet your exact requirements. Choose your cabinet size, gratings and shelves individually and benefit from many technical refinements. Height-adjustable storage levels, floor drip trays that can be pulled out with the canister level or a standard locking device - CEMO quality is there with you every step of the way.
For applications with corrosive acids and alkalis, we have developed the PE chemical cabinet. This pro-level modular cabinet is available in four different sizes - optionally with right- or left-opening doors. The drip tray is integrated into the floor. The PE chemical cabinet can be locked by means of a padlock - and can be assembled in just five minutes without the need for any tools. Only CEMO offers you so much functionality.
Safety cabinets from CEMO
Safety cabinets from CEMO have been specially designed for the compliant storage of hazardous substances in working areas in accordance with DIN EN 14470-1 and TRGS 510. The outer body consists of a non-flammable construction material and can be accessed from underneath. With versatile, adjustable shelves and full extension drawers, CEMO allows you to plan your safety cabinet exactly the way you need it.
Safety room containers made of galvanised steel are accessible and are suitable for the storage or retrieval of large quantities. At CEMO, we can provide you with robust safety room containers in numerous sizes and with a variety of equipment options: especially for water-polluting substances and flammable liquids, with natural ventilation, with thermal insulation or with a sliding door. Let us advise you on what we can do for you.
Steel hazardous material depositories are designed for outdoor installation. The weather-resistant coating, openings and lockable doors make CEMO hazardous material depositories safe and resistant to external influences and access by unauthorised persons. They also offer ample space for chemical and Euro pallets - and are approved for the storage of water-polluting and flammable liquids in accordance with StawaR.
Battery safety cabinets from CEMO
Even if there are not yet any legal regulations with regard to their storage, handling lithium batteries is not without danger. That is why we at CEMO recommend safe storage in our specially-developed battery safety cabinet: This provides protection against high temperatures, short circuiting of the battery poles and mechanical damage - and supports you in the proper disposal of damaged batteries.
With monolithic fire protection plates and optional cable entry, the FWF90 battery safety cabinet is available in three sizes. FWF90 PRO also has a special locking system for the doors, a protection mechanism in case of battery fire and an optional centre partition for each storage level. You can collect and store defective batteries in the battery safety barrel and the collection container.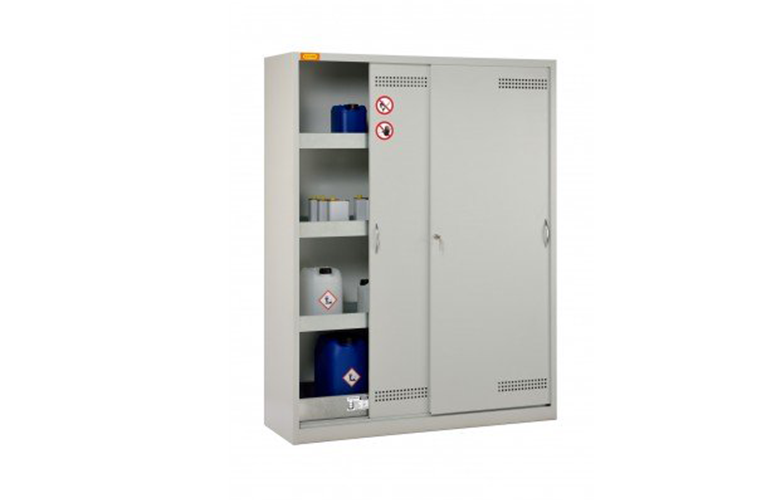 [Translate to English:] CEMO Umweltschrank mit Schiebetür[Translate to English:] Entdecken Sie unsere Umweltschränke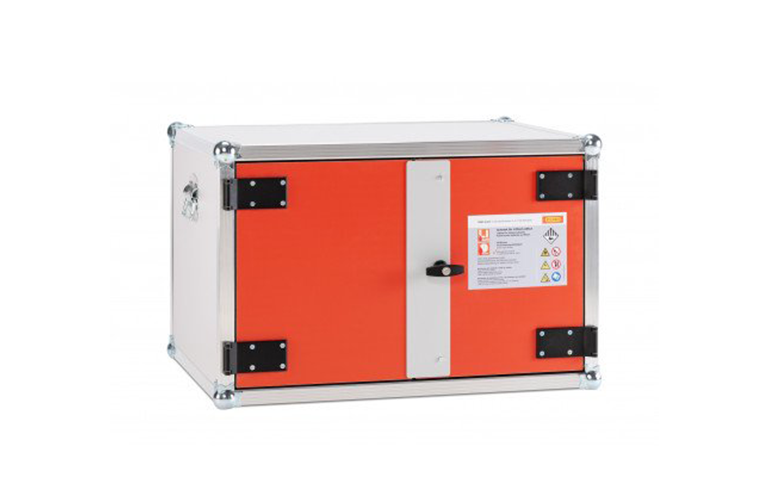 [Translate to English:] CEMO Akku-Ladeschränke[Translate to English:] Entdecken Sie unsere Akku-Ladeschränke

Separate the storage and charging of lithium batteries
Perfect protection with safe storage and transportation systems from CEMO.
To the article

DT-Mobil COMBI - Refuel always and everywhere
Make yourself independent with a mobile COMBI filling station for diesel and AdBlue®.
To the article
Safe storage of hazardous substances with products from CEMO
The protection of people and nature is a top priority for CEMO. This is why the safe storage of hazardous substances, such as fuels and lubricants, lies at the heart of everything we do. CEMO develops products for the storage of hazardous substances that meet all the legal requirements and combine safety with practical use and excellent manageability.

As a pioneer in the field of hazardous materials storage, you can expect modern storage container technology, the highest quality and excellent service from us. We understand the requirements that apply to the materials you need to store and can supply you with a product that is tailor-made to your needs.
Legal requirements for the storage of hazardous substances
Highly flammable, toxic, corrosive, explosive and harmful substances are considered hazardous substances and are subject to special legal requirements. Since such substances are used in numerous industrial plants, the safe storage of hazardous substances is a relevant topic across all sectors.

Laws, standards and accident prevention regulations are there to ensure the proper handling of hazardous substances. Depending on the substance, quantity and hazard assessment, different safety measures need to be taken. The separate storage of flammable materials and the use of storage techniques that comply with legal regulations and design approvals are always part of the requirements. CEMO has been active in the field of hazardous material storage for decades and is therefore a proven expert in the production of safe and legally-compliant storage techniques.
The wide range of CEMO products for the safe storage of hazardous substances
We can provide you with an extensive range of diverse products for the safe storage of hazardous substances that meet all the legal requirements. From drip trays, barrel racks and tanks to cabinets and containers, CEMO can supply you with the right solution for every need. We have the appropriate storage technology for both indoor and outdoor applications.

Our products made of GRP, PE and steel meet all the safety requirements and thus enable you to store hazardous substances in accordance with regulations and in a space-saving manner. We also supply accessories and extension units to match our storage technology.

Our team will advise you in all questions concerning the storage of hazardous substances and offer you a comprehensive service. Trust in the experience and know-how of CEMO when it comes to the storage of hazardous substances.