Lithium batteries
Fire, flames, great heat: These risks are inherent in lithium batteries
Lithium-ion batteries can be found everywhere: in smartphones, tools, cars, and whenever there is a need for power independently of the mains supply. They offer a whole range of advantages, such as high efficiency and long service life. They are also relatively inexpensive and can withstand many charging cycles. Nevertheless, Li-Ion batteries receive a lot of criticism. One reason: overheated batteries have been responsible for fires in the past. We explain how this so-called thermal runaway occurs and how it can be prevented.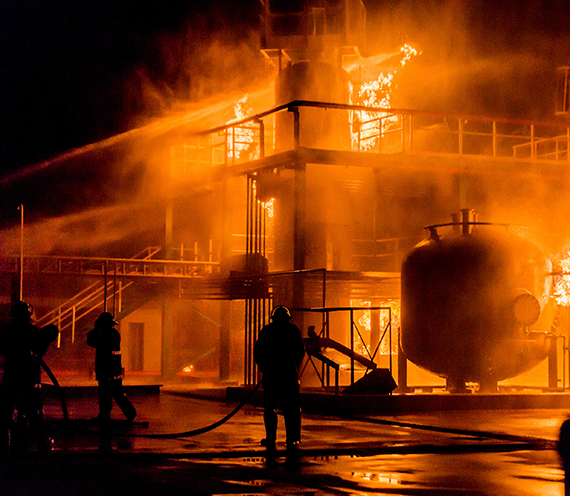 What is a thermal runaway?
"Thermal runaway" or "thermal cycling" refers to a process that leads to a lithium-ion battery burning or exploding. If a battery overheats, a battery cell may start to burn. A chain reaction occurs: the burning cell heats the neighbouring cell, which then also starts to burn. There is talk of explosive burning.
Why does a battery overheat?
Usually the cause of a thermal runaway is found inside the battery. Construction defects, dust particles or damage can lead to a short circuit. Normally the positive and negative poles are separated from each other. This is ensured by the separator, a thin plastic film. If cracks appear in the separator, this can lead to a short circuit and subsequent heat generation. One especially hazardous situation: small instances of damage do not usually cause a fire, but they get bigger and bigger. If a battery is damaged, the fire often fails to break out until several hours later. If an e-car is involved in an accident, its battery may still ignite 72 hours or more later. This time must therefore be waited for in any case, just to be sure. This also applies to other types of damage, such as when a smartphone has fallen to the ground.
Does that mean lithium-ion batteries are dangerous?
Overheated lithium-ion batteries can cause fires in electric cars, smart phones, navigation systems, laptops and many other electrical appliances. However, you can reduce the risk by following some important safety instructions.
Avoid rapid charging.
Do not place battery-operated devices in the sun.
Only use original charging cables.
How can I recognise a defective battery?
Whether a lithium-ion battery is damaged or not is normally not visible from the outside. An odour of plastic or gas can be an indication, even the bloating of the device indicates a defective battery. Another safety note: a battery should never be warm when switched off.
How should I react in the case of fire?
If there really is a fire, lithium-ion batteries can be put out with water. However, to avoid making any risky attempts to extinguish the fire, it is better to call the fire brigade on 112.

Separate storage and charging of lithium batteries
Perfect protection with safe storage and transportation systems from CEMO
To the item

DT-Mobil COMBI - Refuel always and everywhere
Make yourself independent with a mobile COMBI filling station for diesel and AdBlue®.
To the article
Safe storage of hazardous substances with products from CEMO
The protection of people and nature is a top priority for CEMO. This is why the safe storage of hazardous substances, such as fuels and lubricants, lies at the heart of everything we do. CEMO develops products for the storage of hazardous substances that meet all the legal requirements and combine safety with practical use and excellent manageability.

As a pioneer in the field of hazardous materials storage, you can expect modern storage container technology, the highest quality and excellent service from us. We understand the requirements that apply to the materials you need to store and can supply you with a product that is tailor-made to your needs.
Legal requirements for the storage of hazardous substances
Highly flammable, toxic, corrosive, explosive and harmful substances are considered hazardous substances and are subject to special legal requirements. Since such substances are used in numerous industrial plants, the safe storage of hazardous substances is a relevant topic across all sectors.

Laws, standards and accident prevention regulations are there to ensure the proper handling of hazardous substances. Depending on the substance, quantity and hazard assessment, different safety measures need to be taken. The separate storage of flammable materials and the use of storage techniques that comply with legal regulations and design approvals are always part of the requirements. CEMO has been active in the field of hazardous material storage for decades and is therefore a proven expert in the production of safe and legally-compliant storage techniques.
The wide range of CEMO products for the safe storage of hazardous substances
We can provide you with an extensive range of diverse products for the safe storage of hazardous substances that meet all the legal requirements. From drip trays, barrel racks and tanks to cabinets and containers, CEMO can supply you with the right solution for every need. We have the appropriate storage technology for both indoor and outdoor applications.

Our products made of GRP, PE and steel meet all the safety requirements and thus enable you to store hazardous substances in accordance with regulations and in a space-saving manner. We also supply accessories and extension units to match our storage technology.

Our team will advise you in all questions concerning the storage of hazardous substances and offer you a comprehensive service. Trust in the experience and know-how of CEMO when it comes to the storage of hazardous substances.