Lithium Batteries
Separate the storage and charging of lithium batteries
Lithium batteries have become an integral part of our everyday lives. They are concealed inside a wide variety of electrical devices, from smartphones to e-bikes to cordless screwdrivers. When handling these innovative batteries, you should always remember that lithium batteries are hazardous goods. Especially during the charging process, in extreme instances they can explode and cause fires. Let us show you why it is important to use suitable charging cabinets and why you should never charge lithium batteries in the storage area of other batteries or flammable materials/devices.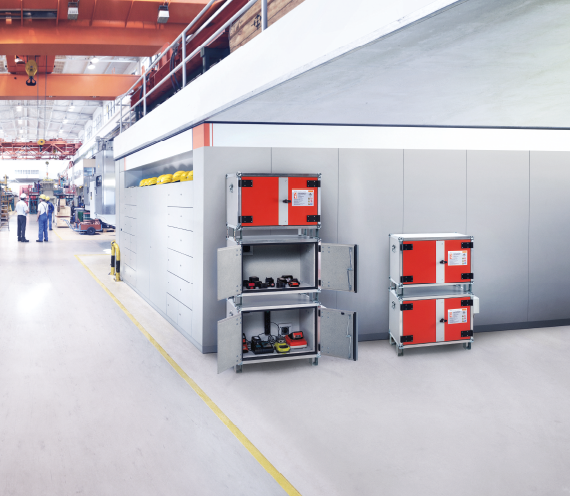 Main risk involved in the charging process
Most lithium battery fires occur during the charging phase. Storing and charging batteries in the same place increases the fire risk in an emergency. If a lithium battery starts to burn during charging, this can lead to a chain reaction: The fire of the burning battery spreads to other lithium batteries. The more batteries there are in the immediate vicinity, such as in the same cabinet, the greater the damage. In the worst case scenario, the fire does not remain limited to the immediate area and accidents involving personal injury and building fires result.
Limited number, lower fire load
At first glance, large, spacious cabinets seem to offer an advantage: They allow the accommodation and charging of numerous lithium batteries in a relatively small space. In the event of fire, however, they have a decisive disadvantage: All the lithium batteries become involved in the fire, with the size of the fire size increasing rapidly in a short time and extinguishing taking longer. The fact is, the smaller the affected number of batteries, the more manageable the risk. Not to mention fires that occur unnoticed, which means that further measures can only be taken with a time delay. A small cabinet size is therefore also completely in the spirit of what the fire brigade would prefer. That said, there is no need to forego flexible storage in terms of quantity: the battery charging cabinets from CEMO can be accessed from underneath and stacked, so they can be adapted and extended as required.
The right place for every battery
Storing, charging, collecting: the condition of lithium batteries is critical for proper storage. Since the risk of fire is particularly high during the charging phase, a charging cabinet should offer particularly high safety precautions, such as special fire protection seals and alarm functions. A shock-resistant plastic collection container is suitable for the collecting of intact lithium batteries. Defective or obviously damaged batteries, however, require something more substantial, and they belong in a special battery safety container. The following applies to both containers: only use these in conjunction with flame-retardant, non-combustible vermiculite or expanded glass granulate, so that a shield is provided in the event of fire.

Separate storage and charging of lithium batteries
Perfect protection with safe storage and transportation systems from CEMO
To the item

DT-Mobil COMBI - Refuel always and everywhere
Make yourself independent with a mobile COMBI filling station for diesel and AdBlue®.
To the article
Safe storage of hazardous substances with products from CEMO
The protection of people and nature is a top priority for CEMO. This is why the safe storage of hazardous substances, such as fuels and lubricants, lies at the heart of everything we do. CEMO develops products for the storage of hazardous substances that meet all the legal requirements and combine safety with practical use and excellent manageability.

As a pioneer in the field of hazardous materials storage, you can expect modern storage container technology, the highest quality and excellent service from us. We understand the requirements that apply to the materials you need to store and can supply you with a product that is tailor-made to your needs.
Legal requirements for the storage of hazardous substances
Highly flammable, toxic, corrosive, explosive and harmful substances are considered hazardous substances and are subject to special legal requirements. Since such substances are used in numerous industrial plants, the safe storage of hazardous substances is a relevant topic across all sectors.

Laws, standards and accident prevention regulations are there to ensure the proper handling of hazardous substances. Depending on the substance, quantity and hazard assessment, different safety measures need to be taken. The separate storage of flammable materials and the use of storage techniques that comply with legal regulations and design approvals are always part of the requirements. CEMO has been active in the field of hazardous material storage for decades and is therefore a proven expert in the production of safe and legally-compliant storage techniques.
The wide range of CEMO products for the safe storage of hazardous substances
We can provide you with an extensive range of diverse products for the safe storage of hazardous substances that meet all the legal requirements. From drip trays, barrel racks and tanks to cabinets and containers, CEMO can supply you with the right solution for every need. We have the appropriate storage technology for both indoor and outdoor applications.

Our products made of GRP, PE and steel meet all the safety requirements and thus enable you to store hazardous substances in accordance with regulations and in a space-saving manner. We also supply accessories and extension units to match our storage technology.

Our team will advise you in all questions concerning the storage of hazardous substances and offer you a comprehensive service. Trust in the experience and know-how of CEMO when it comes to the storage of hazardous substances.