Workshop
Rectangular containers from CEMO
At CEMO, robust and versatile rectangular containers are manufactured exclusively from high-quality, glass fibre reinforced plastic. Weather- and corrosion-resistant GRP is used wherever storage and transportation containers with particularly high stability, durability and low dead weight are required. The smooth surfaces inside and outside facilitate complete emptying and cleaning. Practical transportation devices, removable foot and castor frames and other extras make handling easier.
To the product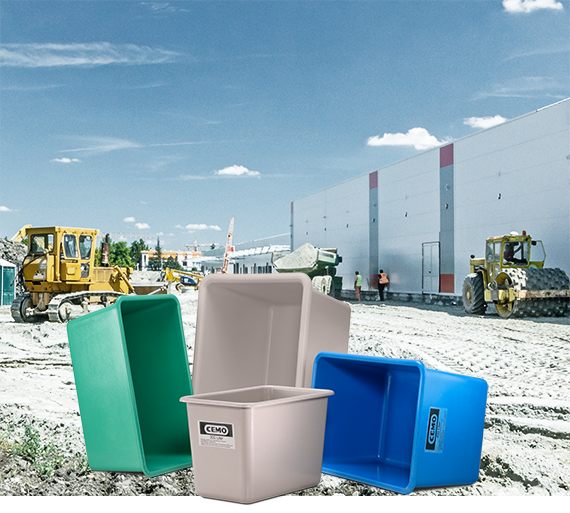 Advantages of CEMO rectangular containers
Rectangular containers made of GRP are available in sizes from 100 to 4,500 litres.

The smooth inner and outer surfaces are dirt resistant and easy to clean.

The smooth inner wall of the container allows the contents to be emptied easily and completely.

GRP is absolutely durable, corrosion-resistant, chemical-resistant, UV-resistant and extremely light.

Rectangular containers are suitable for installation both above ground and underground.

The high strength and stability allows use for many decades.

Rectangular containers from CEMO can be stacked inside or alongside each other and save a lot of space during storage.
The 200 and 400 litres sizes can be accessed with a pallet truck or forklift.

Optional GRP lids are available for all container sizes, with integrated sealing lids for large containers.

The reinforced grip edge ensures a perfect fit for the closure with the optional lid and high dimensional stability for heavy contents.

On request, screw-in threads, screw-through threads and outlet taps are available.

The forklift pockets are mounted liquid-tight and are suitable for turntable stackers.

Optionally, you can get our rectangular containers with swivel castors or steel base frames.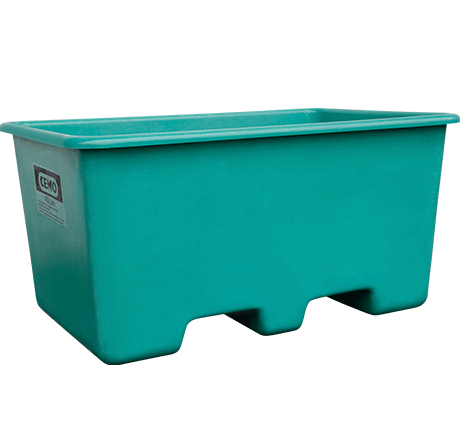 More efficiency with rectangular containers that can be accessed from underneath
Our rectangular containers in sizes of 200 and 400 litres are available with integrated forklift pockets and can be moved from A to B with a pallet truck or forklift in a time- and energy-saving manner. The stacking lid as an optional accessory enables the rectangular containers with closed lids to be stacked on top of each other in a space-saving and stable manner. The optional insert plates secure and sort the contents - and protect even sensitive storage and transport goods. Only CEMO offers this degree of efficiency.
To the product
Materials and sustainability at CEMO
When we talk about resources and raw materials, sustainability is always a key issue.
GRP contains plastic, which gives our CEMbox its desired functions such as durability and resistance. As a family business, we are aware of our responsibility towards our environment and future generations. That is why we are very respectful in terms of our production, processing and daily interaction. Why not see for yourself.
New management team takes up work
Change of Managing Director at CEMO GmbH and strategic reorientation for the future
More information

Separate the storage and charging of lithium batteries
Perfect protection with safe storage and transportation systems from CEMO.
To the article