Workshop
One CEMbox - many advantages
In the CEMbox, your transport goods are in good hands. Optional partitions and insert trays ensure that tools, small parts and sensitive work equipment remain safely and clearly in place. The robust construction made of corrosion-resistant polyethylene guarantees a load-bearing capacity of 400 kilograms and protects the contents from external influences and unauthorised access. In addition, the small, clever container is full of technical refinements to make your work in the workshop more pleasant.
To the product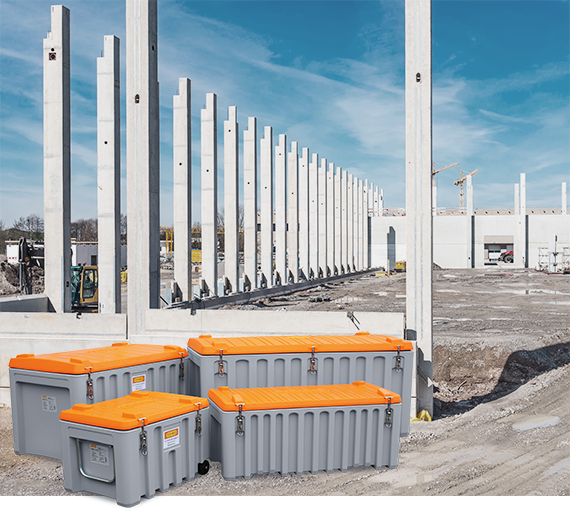 Advantages of the CEMbox
The CEMbox is available in the sizes 150 l, 250 l, 400 l and 750 l.

The double-walled lid is particularly stable and impact resistant.

The all-round lid seal protects the contents from moisture and splashing water.

Ergonomic carrying handles make it easier to carry them alone or in pairs.

Forklift pockets and locking cams allow easy stacking.

The stainless steel eccentric locks secure the contents against unauthorised access.
All CEMboxes have optimal dimensions for platform vehicles.

Optional partitions and insert trays secure and sort even sensitive contents.

The integrated label pocket (for 150 and 400 l) allows easy labelling.

The 750 litre CEMbox has a side door for easy removal on the platform.

The 400 and 750 litre CEMboxes optionally have a crane frame with swivelling crane eyes.

The CEMbox Trolley Offroad for 150 litres allows mobile use on site.
More flexibility with the CEMbox Trolley Offroad
The CEMbox Trolley Offroad provides flexibility in workshops, on construction sites and off-road.
With a loading volume of 150 litres and in the colour grey/orange, this flexible assistant supports you wherever a lot of movement is required. With its integrated handles and robust wheels, it conquers even impassable terrain and stairs. The optional insert trays keep sensitive accessories protected and in place. Like all CEMboxes, it is splash-proof and robust against external influences and access.
New management team takes up work
Change of Managing Director at CEMO GmbH and strategic reorientation for the future
More information

Separate the storage and charging of lithium batteries
Perfect protection with safe storage and transportation systems from CEMO.
To the article