transport & Storage
Boot cleaner from CEMO
Wherever a lot of work is done, boot cleaners are indispensable. For the thorough, quick and comfortable cleaning of boots and work shoes, CEMO offers boot cleaners made of robust PE or steel. The tested materials and high-quality workmanship ensure that our boot cleaners perform their services reliably - even in the demanding everyday working environment. The water pipes are made of stainless steel in both models. Particularly strong brushes allow boots and shoes to be cleaned in a flash.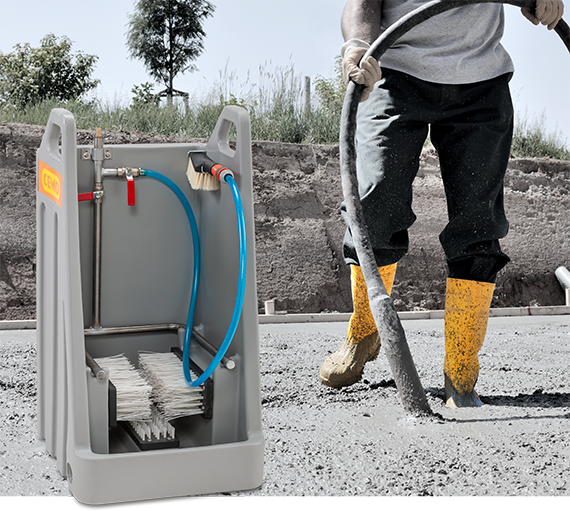 Durable PE boot cleaner
With its integrated handles, the PE boot cleaner can be easily fixed and carried. The plastic polyethylene is very robust, which makes it the ideal material for everyday work. The fresh water is supplied via stainless steel pipes. In addition to three fixed brushes, it has a movable brush to reach every place without any issues Protective walls on three sides ensure that the spray water remains in the collection tray. From there, the dirty water can be easily drained off - keeping everything spick and span.
To the product
ECO environmentally-friendly boot cleaner
The ECO ankle boots are our answer to increased sustainability at work. Made entirely of steel and equipped with three fixed brushes, our environmentally-friendly cleaning assistant cleans boots and work shoes in no time at all. It can be easily fixed and carried by means of the retaining bracket. Because it manages completely without walls, the ECO boot cleaner is particularly suitable for outdoor use. In addition to our steel boot cleaner, we can also provide you with a scraper grid for coarse dirt. This keeps the workplace clean.
To the product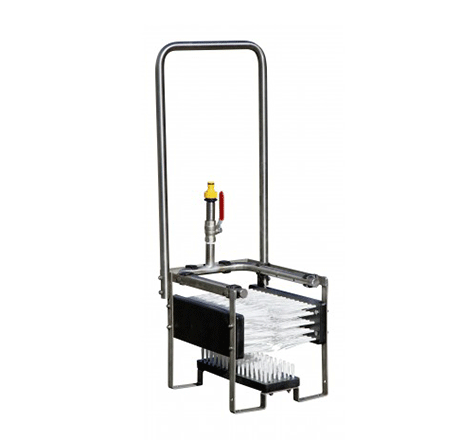 Separate storage and charging of lithium batteries
Perfect protection with safe storage and transportation systems from CEMO
To the item

DT-Mobil COMBI - Refuel always and everywhere
Make yourself independent with a mobile COMBI filling station for diesel and AdBlue®.
To the article