Lithium batteries
Important rules and regulations
Storage regulations
Currently, there are no public regulations on the storage of lithium batteries. But shouldn't be seen as a "free pass to do nothing". According to REACH, lithium batteries are simply products and, by definition therefore, not hazardous substances. However, there is general agreement that, within your business, lithium batteries need be treated and stored as a hazardous substance (see also VdS 3103).
The storage of lithium batteries is significantly influenced by their performance classification: low, medium and high performance (see general and specific safety rules). On the part of the insurers, there are written recommendations (leaflet VdS 3103) which are regarded as equivalent and equally binding.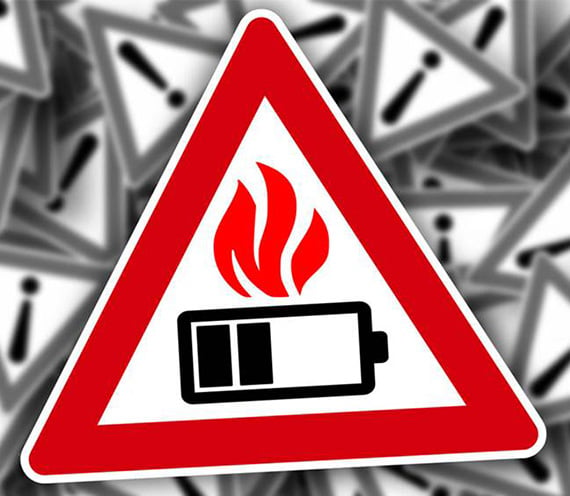 For the storage of lithium batteries, analogies can be derived to the transport regulations for hazardous goods and the hazardous materials ordinance or TRGS
In accordance with the law on hazardous goods: provide a protection design based on the hazard potential, e.g. differentiation between new products, end-of-life batteries, damaged batteries, prototypes, etc.
In accordance with the law on hazardous substances, design the storage facility as for a hazardous materials storage facility in accordance with TRGS 510, including design as F90, access restriction, ventilation, prohibition of combined storage.
The following storage solutions have proven themselves in practice:
Safety cabinets in accordance with EN14470
ADR-compliant container and transportation systems with fire protection function
Fire protection containers with tested fire resistance
Other additional conditions:
storage is only permitted if lithium batteries are tested in accordance with UN38.3, otherwise only following an appropriate risk assessment.
No charging in the storage area!
Charging dealt with separately from storage.
Only daily requirements outside of warehouses
Minimum quantity limitation or encapsulation
Property insurance and, in the case of larger quantities, the fire brigade should be involved in the decision-making process in terms of proper storage. See also fire protection concept.
Transport regulations
Since 2009, lithium batteries have been officially noted as Class 9 hazardous goods (various hazardous substances and item). And that's no bad thing! For small lithium batteries (<100Wh), the legislation provides relief for e.g. power banks, mobile phones or laptop batteries via special provision 188 in the ADR. Under certain conditions, their transportation does not fall under the considerably more complicated hazardous goods transportation requirements for larger batteries.
The following points must be worked through in connection with the transportation:
UN 3090 (Lithium-metal batteries) or UN 3480 (Lithium-ion battery)
Classification into small (according to SV188) or larger lithium batteries
Choice of container or packaging
Correct packing method
ADR-compliant labelling
For lithium batteries there are various special regulations and packaging instructions in the ADR (i.e. transportation by road). These differ, in some cases considerably, in the requirements associated with them and the choice of container or packaging.
ADR distinguishes between
New/intact lithium batteries (normal case)
Lithium batteries with prototype status
Defective/damaged lithium batteries
Lithium batteries for disposal/recycling
In principle, transportation by air is much more complicated, and the shipping of defective/damaged lithium batteries is even strictly prohibited. Lithium batteries in aircraft have been associated with too many accidents, sometimes even with crashes. It is advisable to consult the transport service provider in advance with regard to the transportation and what needs to be taken into account.
Legal regulations - obligation to instruct:

All persons involved in the transportation of hazardous goods (e.g. lithium batteries) MUST be instructed in the requirements for their area of work and responsibility. Even those who are not subject to the law on hazardous goods (e.g. because of SV 188) should know exactly why they are exempt and what conditions they have to comply with.
Special feature: transportation of lithium batteries as hazardous goods

Lithium batteries are considered hazardous goods under transport law. A UN approval of the container alone does not justify all requirements to carry out the ADR-compliant transportation of lithium batteries for all cases. We therefore recommend that our customers acquire the appropriate technical knowledge in the field and to train the responsible employees extensively so that the containers are used according to the regulations. This includes having appropriate understanding of the official packaging instructions, the labelling in accordance with ADR and the conscious handling of e.g. damaged lithium batteries.
General safety rules
According to GDV / VdS, the following are to be observed in principle (even for small quantities):
Compliance with all specifications of the respective manufacturers and technical product data sheets
Prevention of external short circuits (protection against short circuiting the battery poles, e.g. by using pole caps)
Prevention of internal short circuits (protection against mechanical damage)
Do not expose to high temperatures or heat sources directly and permanently (e.g. including direct sunlight)
In areas not protected by automatic extinguishing systems, a structural or spatial separation of at least 2.5 m from other flammable materials must be maintained.
Damaged or defective lithium batteries must be removed immediately from storage and production areas and temporarily stored at a safe distance or in a fire protection area until disposal.
Only cells and batteries for which proof of testing according to UN 38.3 is available may be stored (prototypes may be stored in exceptional cases and only with a risk assessment).
When charging batteries, the instructions of the manufacturers and insurers must be observed.
Source:VdS3103
Specific safety rules
According to GDV / VdS, the following are to be observed in particular:
Low-power lithium batteries (≤ 100 Wh)
For batteries in this category the general safety rules apply; for this there are no specific safety rules. For larger connected storage quantities (volumes over 7 m³ or more than six Euro pallets) the instructions for medium capacity lithium batteries apply.
Medium capacity lithium batteries (> 100 Wh and ≤ 12 kg)

Areas with medium power batteries must be separated from other areas spatially (at least 5 m) or structurally fire resistant mixed bearing arrangements with other products, which can accelerate a fire , should be avoided The storage area is to be monitored by means of a suitable fire alarm system with connection to a permanently occupied location . In terms of the presence of fire extinguishing systems, the information in reference to suitable extinguishing agents in the respective technical product data sheets must be taken into account. For larger storage quantities (occupied area > 60 m² and/or storage heights > 3 m), the instructions for high-performance lithium batteries apply.
High-performance lithium batteries (> 100 Wh and > 12 kg)

In terms of high-performance batteries no no secure knowledge currently exists regarding the adequate protective measures . Protective measures are therefore to be taken in agreement with the property insurer for the individual case. Conceivable measures in this respect include e.g:
Separation and quantity limits
Storage in fireproof separated areas or with adherence to a safety distance (spatial separation of 5 m)
Automatic fire extinguishing systems
Source:VdS3103
Risk assessment
The operating instructions and, if necessary, a "safety data sheet" from the battery manufacturer should provide initial orientation. Lithium batteries pose an array of hazards: electrical hazard, fire hazard, environmental hazard, acid leakage etc.
In order to determine all the hazards posed by lithium batteries, it is necessary to look at the entire process within the company (i.e. from goods receipt, operation, storage and disposal). It is crucial to make a breakdown in the classification because of the considerable differences in risk: new, damaged, in use, charging, etc.
Typical examples of what needs to be identified and evaluated in terms of a risk assessment
Employees must be aware of the criteria that apply when a lithium battery becomes conspicuous or is considered defective/damaged (meaning that it is no longer in use)
The correct handling of returns/complaints from customers must be clarified if they arrive in an unknown (hazardous) condition at your own company. In any case, the charging of lithium batteries must be considered in the employer's risk assessment. All hazards associated with the charging processes and storage of the batteries must be assessed and it must be determined which occupational safety measures are necessary. Employee instruction and operating instructions for handling lithium batteries can then be derived from the written documented risk assessment.
Fire protection concept
A holistic fire protection concept is important. This should include not only structural/technical protective measures (e.g. a safety cabinet) but also organisational/behavioural protective measures (e.g. the separation of damaged batteries). In terms of the concept design, the employer must also consider the question of a sprinkler system or smoke detector/fire alarm system.
Even the best fire protection concept is useless if the employees are not prepared for an emergency. This means that staff training, definition of the rescue chain, the commissioning of hand fire extinguishers and PPE if necessary, emergency training are all important.
Discussions with the fire brigade & property insurers
A fire protection concept should never worked out behind closed doors, but should be a team effort involving a range of participants and experts. These should include above all, storage solution manufacturers, affected employees, managers, fire safety officers, insurance representatives, the fire brigade and external experts.
The effectiveness and timeliness of the fire protection concept should be reviewed regularly.

Separate storage and charging of lithium batteries
Perfect protection with safe storage and transportation systems from CEMO
To the item

DT-Mobil COMBI - Refuel always and everywhere
Make yourself independent with a mobile COMBI filling station for diesel and AdBlue®.
To the article