Refuelling
Petrol filling stations from CEMO
Our mobile and stationary petrol tank systems can guarantee you the storage and handling of petrol for indoor and outdoor use in accordance with your requirements. With high quality, tested materials and clever CEMO-only extras, customers rely on us all over the world. For our "Made in Germany" company, the issue of safety is of the highest priority. Find out more about our safe fuelling systems for petrol engines - and about CEMO.
To the product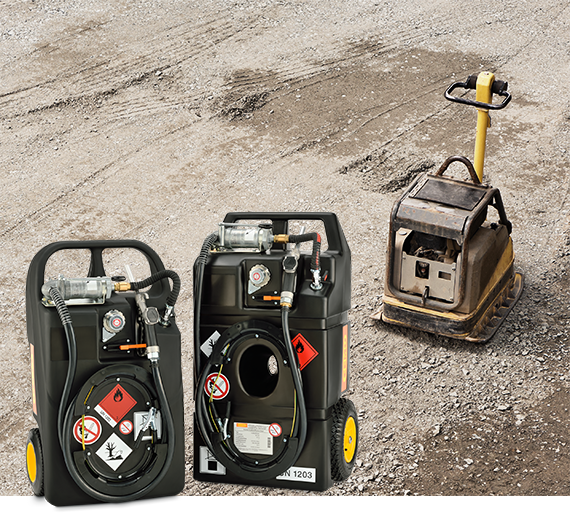 Mobile tank systems for petrol
With capacities of 400, 600 or 980 litres, the KS MOBIL is designed for indoor and outdoor refuelling. With a double-walled, explosion pressure shock-resistant steel wall, the KS MOBIL is a convincing stationary and mobile petrol tank system. The approval is unlimited in time. The all-rounder is also approved in water protection areas and for transportation in accordance with ADR. On request, our KS MOBIL is also available for use with bio-ethanol.
Mobile refuelling systems, canisters and trolleys for petrol supply
Do you want to fill up with between 5 and 25 litres of petrol both off-road and on the road? With CEMO, working with petrol engines becomes an easy task. For mobile refuelling, we can provide you with canisters in different sizes and with varying equipment: The filling system prevents overfilling and ensures that nothing is spilled. A safety lock against unwanted opening, stackable or with nozzle pump? Our canisters are sure to support you in your work.
The fuel trolley with a capacity of 60 or 95 litres ispermitted for transportation for direct use in accordance with ADR 1.1.3.1.c). It is made of electrically conductive, highly cross-linked polyethylene and is flame-proof. Integrated carrying handles, filling nozzles and the withdrawal line with stopcock make it a comfortable companion for all operations outside and on the road.
The KS MOBIL EASY made of high-quality PE is equipped with an explosion-suppressing insert. Nozzle holder, filling nozzles, forklift pockets, carrying handles, recesses for fastening with ratchet lashing strap, ventilation and pressure relief are integrated. With its dipstick for level detection and ADR approval, the KS MOBIL EASY leaves nothing to be desired. Choose the petrol filling station with a 120 or 190 litre tank.
The KS MOBIL STEEL, made of 3 mm sheet steel, is explosion pressure shock resistant, TÜV tested and approved in accordance with ADR. The handles can also be used as crane eyes. It has forklift pockets, is lockable with the pump box and is available for quantities from 90 to 300 litres. The electric pump, the filling nozzles and the dipstick make it a safe and practical companion for all demanding operations outdoors and in the field.

Separate the storage and charging of lithium batteries
Perfect protection with safe storage and transportation systems from CEMO.
To the article

DT-Mobil COMBI - Refuel always and everywhere
Make yourself independent with a mobile COMBI filling station for diesel and AdBlue®.
To the article
Stationary and mobile filling stations and tank systems from CEMO
Being able to refuel independently of the filling station network, both at your own premises and in remote locations, means comfort and safety and offers numerous practical advantages. With a view to storing and transporting your fuel safely, CEMO can offer you a variety of filling stations and tank systems to meet your needs. From handy solutions for your own requirements to steel tanks for construction, agriculture and forestry; we can supply you with tailor-made options.

CEMO is Germany's market leader in the field of legally-compliant complete systems for independent filling stations. We offer filling stations and fuelling systems for diesel, gasoline and AdBlue® / DEF / ARLA 32, which can ensure your supply of fuels even away from filling stations, while meeting the high safety standards and necessary legal requirements.
Filling stations and tank systems for diesel, petrol and AdBlue® / DEF / ARLA 32
CEMO can provide you with both stationary and mobile filling stations and tank systems for a variety of fuels. It goes without saying that our products meet all the legal requirements, which differ depending on the type of fuel. For example, explosion pressure resistance, flame arresting and water hazard classes play a role in the fitting-out of filling stations and tank systems. And we can offer you the right solution for more than just diesel and petrol. We also supply filling stations in various designs for urea AdBlue® / DEF / ARLA 32.

To go with our filling stations and tank systems, CEMO also offers manual electric pumps featuring various flow rates.
Storage in accordance with requirements and easy handling with CEMO tank systems
CEMO's filling stations and tank systems not only guarantee the safe storage of fuels in accordance with requirements, but are also convincing in terms of installation and handling. Our extensive range features both stationary and mobile versions as well as tank systems for indoor and outdoor use can. Practical fuel trolleys also ensure maximum flexibility.

CEMO can provide you with filling stations and tank systems made of GRP, PE or steel with or without ADR approval for the transportation of dangerous goods. You can also choose between different sizes and volumes - whatever is practical for your business and suits the conditions on-site.

Ensure the protection of both people and nature when refuelling your vehicles with tank systems and filling stations from CEMO.