Refuelling
Time saving and other advantages of having your own tank system
Time is our greatest asset - and very likely yours as well. Having your own filling station will mean saving yourself a lot of time from now on. Because, along with the many practical benefits, the main advantage of having your own filling station is the gaining of time. Particularly in rural areas, or where the nearest public petrol station is some way away, this can build up to a significant amount of time, even over short distances.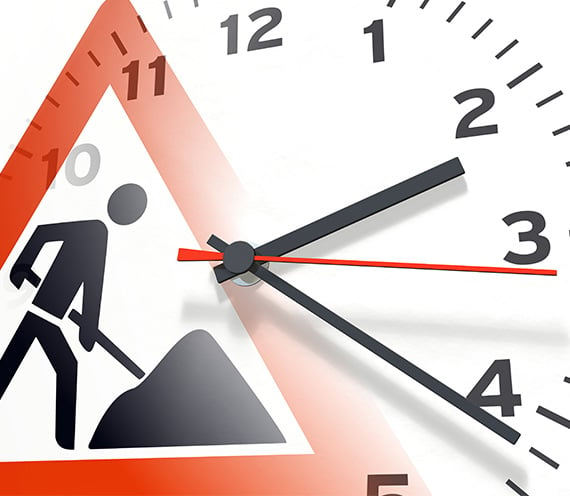 A quick example
Imagine the nearest public petrol station is five kilometres away and you refuel your vehicle once a week. You, or your employee, will need about 30 minutes of working time per week for driving and refuelling. Based on an hourly rate of 40 Euro, over the course a year this will come to 1000 Euro - for just one vehicle. Surely it would be better to save this money and the hassle of wasting your or your employees' time unproductively on the road and in traffic jams.
Better conditions when buying fuel
A further argument in favour of having your own filling station is the possible fuel costs savings when buying in larger quantities. With an annual consumption of around 10,000 litres you are able to negotiate a more favourable purchase price. Ask your fuels dealer about their conditions for volume purchases. Whenever the price of fuel has reached an attractively low level, you can take advantage by purchasing a large quantity. Once you have filled up your filling station, you won't have to worry about large price jumps at public petrol stations.
Better protection against theft and fraud
Rising fuel prices make fuel theft a lucrative business. There are several ways to prevent this. By means of special access and control systems, the consumption of each machine and each employee can be controlled. The installation alone has a deterrent effect. Construction site theft itself is prevented by providing only the actual daily requirements and no unattended stockpiling over several days on-site.
Immediate start of work and quick checks
If vehicles and machines are refuelled in the evening during operation, they are ready for use the next day from the very first minute. There is no time lost by driving to the petrol station and having to wait around there. A further advantage is the optimised control of the fuel delivery. This can be managed by means of an access control system.
The vehicle registration number, mileage, date, time and all other delivery data are stored and transmitted directly to the PC. This ensures easier and faster billing.
Fast refuelling without spills
Machines and vehicles are becoming bigger and more powerful. As a result, they increasingly have to be refuelled directly at their place of use. In addition, the tank nozzles are sometimes difficult to access due to the arrangement of the tanks or are located at heights of up to 1.40 metres. For this reason, refuelling with canisters is no longer appropriate and poses risks to health and our environment. With tank sizes over 50 litres, refuelling is time-consuming and fuel spillage is pre-programmed. At mobile filling stations with automatic nozzles this problem does not occur, because overfilling and spilling is reliably prevented with CEMO.
All your refuelling solutions from one professional source
Whether diesel, petrol, AdBlue®, lubricants or motor oil - everything you need for refuelling, transportation and storage is available from CEMO. We would be pleased to advise you on your requirements and demands and show you in detail the advantages of a stationary or mobile refuelling solution. No matter what you decide, with us you will always receive competent advice from professional to professional.

Separate storage and charging of lithium batteries
Perfect protection with safe storage and transportation systems from CEMO
To the item

DT-Mobil COMBI - Refuel always and everywhere
Make yourself independent with a mobile COMBI filling station for diesel and AdBlue®.
To the article
Stationary and mobile filling stations and tank systems from CEMO
Being able to refuel independently of the filling station network, both at your own premises and in remote locations, means comfort and safety and offers numerous practical advantages. With a view to storing and transporting your fuel safely, CEMO can offer you a variety of filling stations and tank systems to meet your needs. From handy solutions for your own requirements to steel tanks for construction, agriculture and forestry; we can supply you with tailor-made options.

CEMO is Germany's market leader in the field of legally-compliant complete systems for independent filling stations. We offer filling stations and fuelling systems for diesel, gasoline and AdBlue® / DEF / ARLA 32, which can ensure your supply of fuels even away from filling stations, while meeting the high safety standards and necessary legal requirements.
Filling stations and tank systems for diesel, petrol and AdBlue® / DEF / ARLA 32
CEMO can provide you with both stationary and mobile filling stations and tank systems for a variety of fuels. It goes without saying that our products meet all the legal requirements, which differ depending on the type of fuel. For example, explosion pressure resistance, flame arresting and water hazard classes play a role in the fitting-out of filling stations and tank systems. And we can offer you the right solution for more than just diesel and petrol. We also supply filling stations in various designs for urea AdBlue® / DEF / ARLA 32.

To go with our filling stations and tank systems, CEMO also offers manual electric pumps featuring various flow rates.
Storage in accordance with requirements and easy handling with CEMO tank systems
CEMO's filling stations and tank systems not only guarantee the safe storage of fuels in accordance with requirements, but are also convincing in terms of installation and handling. Our extensive range features both stationary and mobile versions as well as tank systems for indoor and outdoor use can. Practical fuel trolleys also ensure maximum flexibility.

CEMO can provide you with filling stations and tank systems made of GRP, PE or steel with or without ADR approval for the transportation of dangerous goods. You can also choose between different sizes and volumes - whatever is practical for your business and suits the conditions on-site.

Ensure the protection of both people and nature when refuelling your vehicles with tank systems and filling stations from CEMO.