Refuelling
AdBlue® filling stations from CEMO
AdBlue® is required in diesel-powered trucks from Euro 4 with SCR technology. Consisting of 32.5 % urea and 67.5 % demineralised water, AdBlue® reduces the emission of nitrogen oxides. All parts in contact with the liquid must be made of stainless steel or approved plastics. CEMO can provide you with various options for your own refuelling with this non-toxic and odourless fuel: Whether stationary or mobileAdBlue® filling stations, we have the right solution for your needs.
To the product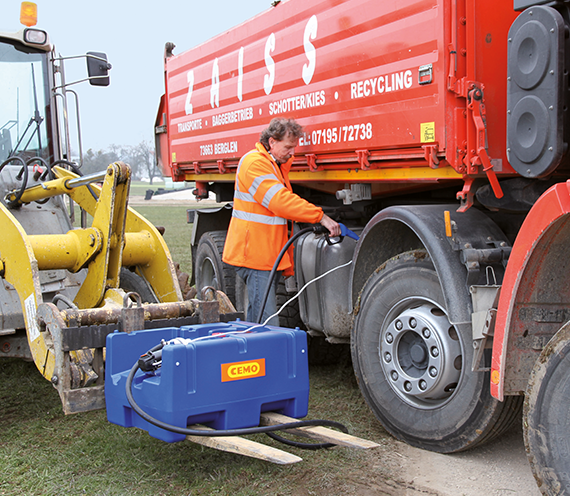 Stationary AdBlue® filling station
The modern CUBE series was specially developed as a complete system to offer you greater comfort and efficiency in your everyday work: The CUBE PE tank for AdBlue ® made of polyethylene comes with a 5,000-litre tank including an integrated drip tray. Everything is clearly mounted, ready for connection and, depending on the version, for use both inside and outside.
Benefit from the extra large access with hinged lid and many extras.
We can also offer you CUBE for AdBlue® with a 1,500 or 2,500 litre tank. Here too, the drip tray is integrated in advance. Choose your stationary tank system for indoors or outdoors and benefit from the wide range of variants and equipment with CEMO - also specially designed for the colder times of the year. Our experts look forward to advising you in person on your wishes and requirements.
Mobile AdBlue® filling station
Whether in the car workshop or the vehicle fleet, the CEMO Trolley PRO Car is the answer to the demand for diesel vehicles with environmentally-friendly AdBlue®. The shapely trolley is made of polyethylene, has an integrated baffle, carrying handles and extra large wheels with which it even masters stairs. Choose 60 or 100 litres as required and fill up with AdBlue® at any time and any place.
BLUE-MOBIL EASY is the practical solution for refuelling on the construction site, in open terrain or out in the fields. With a belt guide for transport safety, integrated forklift pockets and carrying handles as well as a submersible pump, fuel hose and automatic nozzle, you will be able to quickly and easily refuel your vehicles with AdBlue®. BLUE-MOBIL EASY is available with 25 to 980 litres tanks- optionally also with LiFePo4 battery and charger.
The BLUETROLL Car PRO 200 l with suction pipe and AF2 coupling enables the generous refuelling of cars with AdBlue®. The automatic nozzle is adjustable, and a 12 V electric pump, a flow meter and a lithium battery with charger are also included.
We can provide you with pump systems for mobile refuelling with AdBlue® in various designs: whether manual nozzle, automatic nozzle or high-quality diaphragm pump, in our wide range of products you will find the perfect pump system for your tank system.
Materials and sustainability at CEMO
When we talk about resources and raw materials, sustainability is always a key issue.
PE and GRP contain plastics that give our tank systems their desired functions such as durability and resistance. As a family business, we are aware of our responsibility towards our environment and future generations. That is why we are very respectful in terms of our production, processing and daily interaction. Why not see for yourself.

Separate storage and charging of lithium batteries
Perfect protection with safe storage and transportation systems from CEMO
To the item

DT-Mobil COMBI - Refuel always and everywhere
Make yourself independent with a mobile COMBI filling station for diesel and AdBlue®.
To the article
Stationary and mobile filling stations and tank systems from CEMO
Being able to refuel independently of the filling station network, both at your own premises and in remote locations, means comfort and safety and offers numerous practical advantages. With a view to storing and transporting your fuel safely, CEMO can offer you a variety of filling stations and tank systems to meet your needs. From handy solutions for your own requirements to steel tanks for construction, agriculture and forestry; we can supply you with tailor-made options.

CEMO is Germany's market leader in the field of legally-compliant complete systems for independent filling stations. We offer filling stations and fuelling systems for diesel, gasoline and AdBlue® / DEF / ARLA 32, which can ensure your supply of fuels even away from filling stations, while meeting the high safety standards and necessary legal requirements.
Filling stations and tank systems for diesel, petrol and AdBlue® / DEF / ARLA 32
CEMO can provide you with both stationary and mobile filling stations and tank systems for a variety of fuels. It goes without saying that our products meet all the legal requirements, which differ depending on the type of fuel. For example, explosion pressure resistance, flame arresting and water hazard classes play a role in the fitting-out of filling stations and tank systems. And we can offer you the right solution for more than just diesel and petrol. We also supply filling stations in various designs for urea AdBlue® / DEF / ARLA 32.

To go with our filling stations and tank systems, CEMO also offers manual electric pumps featuring various flow rates.
Storage in accordance with requirements and easy handling with CEMO tank systems
CEMO's filling stations and tank systems not only guarantee the safe storage of fuels in accordance with requirements, but are also convincing in terms of installation and handling. Our extensive range features both stationary and mobile versions as well as tank systems for indoor and outdoor use can. Practical fuel trolleys also ensure maximum flexibility.

CEMO can provide you with filling stations and tank systems made of GRP, PE or steel with or without ADR approval for the transportation of dangerous goods. You can also choose between different sizes and volumes - whatever is practical for your business and suits the conditions on-site.

Ensure the protection of both people and nature when refuelling your vehicles with tank systems and filling stations from CEMO.