Refuelling
5 top benefits of 2-in-1 tank systems from CEMO
Diesel and AdBlue® are like peas in a pod. But why do diesel vehicles actually need AdBlue®? The urea reduces nitrogen oxide emissions by converting them into nitrogen and water vapour. This means that fewer pollutants are released into the air and the atmosphere. Our environment and your emissions balance get to take a breath .Because not every filling station lets you fill up with AdBlue®, having your own filling station quickly pays off - especially when working on the land, in woods and fields or anywhere far away from the nearest filling station. CEMO developed the 2in1 COMBI tank systems to deal with just such situations. With these you can fill up with both diesel and AdBlue®.
Let us show you 5 other top benefits of the 2in1 COMBI filling stations.
To the product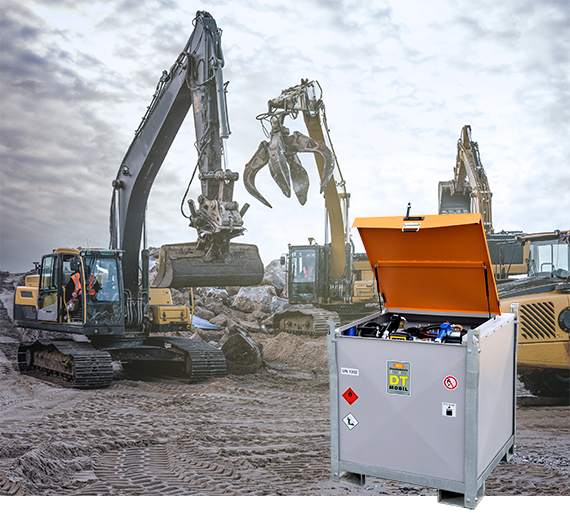 Two substances, one tank system
Fill up with diesel, fill up with AdBlue® or fill up with both together. With CEMO's 2in1 solutions, you always have all these variants available as an immediate solution. This also allows you to save space in your company, on the construction site or out in the fields.
Refuel in any terrain
The fuel gauge lights up, the fuel is running low - but the next filling station is a long way away. No problem if you have your mobile tank system with you: Fill up whenever and wherever you want - our 2in1 filling stations make this dream come true.
Save time in your daily work
Refuelling is essential, but sometimes difficult to fit into the daily schedule. With a filling station you get to save yourself the trip to the filling station. Refuel on-site and at any time of day or night. This leaves more time for your actual work. Isn't that great?
Space-saving transportation
The compact, cube-shaped design of the 2in1 tank systems enables space-saving transportation with small trucks or pick-ups. Ratchet lashing straps are also easy to attach - for increased safety and the good feeling of knowing you'll never run out of fuel.
Easy handling for difficult days
The 2in1 tank systems from CEMO have carrying handles and can be accessed from underneath. Thanks to built-in gas pressure springs, the lid can be opened and closed easily, more easily and with less effort.

Separate storage and charging of lithium batteries
Perfect protection with safe storage and transportation systems from CEMO
To the item

DT-Mobil COMBI - Refuel always and everywhere
Make yourself independent with a mobile COMBI filling station for diesel and AdBlue®.
To the article
Stationary and mobile filling stations and tank systems from CEMO
Being able to refuel independently of the filling station network, both at your own premises and in remote locations, means comfort and safety and offers numerous practical advantages. With a view to storing and transporting your fuel safely, CEMO can offer you a variety of filling stations and tank systems to meet your needs. From handy solutions for your own requirements to steel tanks for construction, agriculture and forestry; we can supply you with tailor-made options.

CEMO is Germany's market leader in the field of legally-compliant complete systems for independent filling stations. We offer filling stations and fuelling systems for diesel, gasoline and AdBlue® / DEF / ARLA 32, which can ensure your supply of fuels even away from filling stations, while meeting the high safety standards and necessary legal requirements.
Filling stations and tank systems for diesel, petrol and AdBlue® / DEF / ARLA 32
CEMO can provide you with both stationary and mobile filling stations and tank systems for a variety of fuels. It goes without saying that our products meet all the legal requirements, which differ depending on the type of fuel. For example, explosion pressure resistance, flame arresting and water hazard classes play a role in the fitting-out of filling stations and tank systems. And we can offer you the right solution for more than just diesel and petrol. We also supply filling stations in various designs for urea AdBlue® / DEF / ARLA 32.

To go with our filling stations and tank systems, CEMO also offers manual electric pumps featuring various flow rates.
Storage in accordance with requirements and easy handling with CEMO tank systems
CEMO's filling stations and tank systems not only guarantee the safe storage of fuels in accordance with requirements, but are also convincing in terms of installation and handling. Our extensive range features both stationary and mobile versions as well as tank systems for indoor and outdoor use can. Practical fuel trolleys also ensure maximum flexibility.

CEMO can provide you with filling stations and tank systems made of GRP, PE or steel with or without ADR approval for the transportation of dangerous goods. You can also choose between different sizes and volumes - whatever is practical for your business and suits the conditions on-site.

Ensure the protection of both people and nature when refuelling your vehicles with tank systems and filling stations from CEMO.