Material check
PE and GRP in comparison
Drums for transportation and irrigation are available from us in polyethylene (PE) or glass fibre reinforced plastic (GRP). Each material offers specific advantages depending on the place and purpose of use. To make your decision easier, we have compiled the quality characteristics of both materials for you. Whether PE or GRP, with CEMO you will always benefit from the best processing and best service. Only CEMO offers this level of commitment.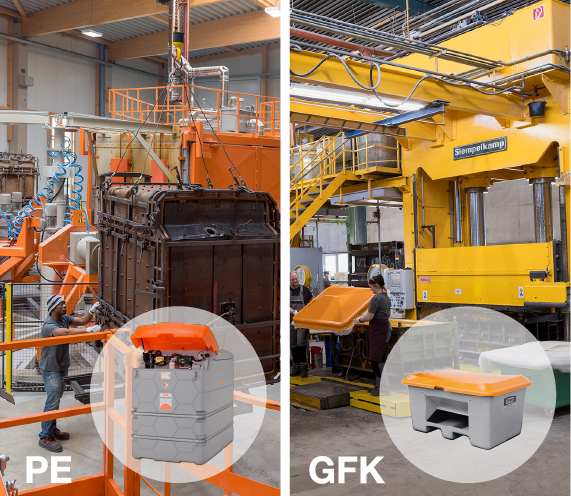 Quality characteristics of GRP drums



Oval, suitcase or box-shaped

200 to 15,500 litres

Easily repaired

In your preferred colour

Durable

Weatherproof
Quality characteristics of PE drums



Suitcase or box-shaped

125 to 2,000 litres

Resistant to ageing

Recyclable

Low-priced
Materials and sustainability at CEMO
When it comes to materials, resources and raw materials, issues of sustainability lie at the heart of everything we do.
PE and GRP contain plastics that give our drums and trays their desired, such as durability and resistance As a family business, we are aware of our responsibility towards our environment and future generations. That is why we are very respectful in terms of our production, processing and daily interaction. Why not see for yourself.

Separate the storage and charging of lithium batteries
Perfect protection with safe storage and transportation systems from CEMO.
To the article

DT-Mobil COMBI - Refuel always and everywhere
Make yourself independent with a mobile COMBI filling station for diesel and AdBlue®.
To the article
Mobile irrigation systems are suitable for the professional irrigation of larger areas and parks.
Medium sizes are used in gardening and landscaping as well for cleaning buildings. All units are completely assembled with motor pumps and swivel hose reels. GRP barrels involve irrigation systems with capacities of up to 6,000 litres.