Refuelling
Tank systems for lubricants
CEMO lubricant tank systems are available in different sizes for stationary and mobile use. Depending on your requirements, we can provide you with tank systems for both fresh and used oil. No matter which tank system you choose, with CEMO you choose reliability, safety and maximum comfort. Over the year, our durable high quality products pay for themselves. We would be pleased to advise you in person on our tank systems for lubricants.
To the product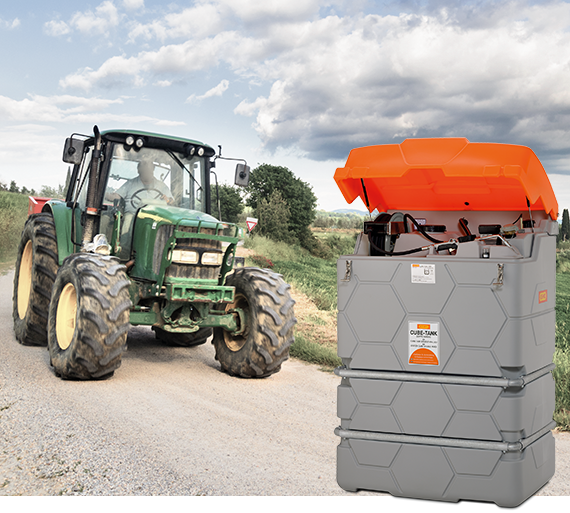 Stationary tank systems for lubricants
The CUBE lubricant tank belongs to the first generation of filling stations available as a complete system. This means that all the sub-components are integrated and nothing gets in the way of refilling with fresh oil. Choose the CUBE Basic or CUBE Premium lubricant tank system made of high-quality PE in the sizes1,000 to 2,500 litres including integrated drip tray. With overfill protection, a leakage indicator and nozzle holder, CUBE revolutionises the filling of lubricants - both indoors and outdoors.
The CUBE from CEMO is also available as a practical waste oil tank for indoor or outdoor use. Between 1,000 and 2,500 litres of waste oil can be collected with the tank system made of high-quality PE. Here too, the many extras and functions that make a waste oil tank a reliable and productive companion for daily work are truly convincing. CUBE comes to you completely assembled with or without hinged cover and is ready for use immediately.
The UNI stationary compact unit for lubricants is available for volumes between 750 and 1,500 litres - optionally with a pneumatically or electrically-operated pump. The single tank made of HDPE including galvanised drip tray comes to you with a pallet foot, filling level indicator and optical leakage indicator as standard. It is approved for the above-ground storage of fresh or waste oil with a flash point > 55 °C as well as in water protection areas and buildings.
Individual tanks made of HDPE including a galvanised drip tray are available from CEMO in sizes from 400 to 1,500 litres. To allow you to safely store and transport fresh or waste oil, he extra low centre of gravity increases stability and improves handling on a daily basis.
The CEMO PROFI tank is the professional, double-walled solution for outdoor installation and use. Whether fresh or waste oil, the slightly transparent tank wall allows easy level control. The PROFI tank with integrated optical leak detection is available with tank volumes from 1,300 to 2,350 litres. The clever accessories allow you to upgrade and adapt the 100% corrosion-resistant tank according to your requirements.
Mobile tank systems for lubricants
The CEMO lubricant trolley will support you reliably both on and off the road. It was developed especially for the transportation and filling of fresh engine, transmission and hydraulic oils. With integrated carrying handles, filling nozzle and nozzle holder, it makes refilling in the field or on the construction site easy. The 60 or 100 litre tank has a baffle and is made of robust polyethylene.
The MOBIL EASY is the practical solution for filling vehicles with engine, transmission and hydraulic oils. The single-walled container made of polyethylene and designed for 200 or 430 litres has a belt guide for transportation safety as well as integrated carrying handles and forklift pockets. The self-priming electric gear pump with a 4-metre long dispensing hose and oil dispensing gun make refilling on the road more efficient and safer.
New management team takes up work
Change of Managing Director at CEMO GmbH and strategic reorientation for the future
More information

Separate the storage and charging of lithium batteries
Perfect protection with safe storage and transportation systems from CEMO.
To the article
Stationary and mobile filling stations and tank systems from CEMO
Being able to refuel independently of the filling station network, both at your own premises and in remote locations, means comfort and safety and offers numerous practical advantages. With a view to storing and transporting your fuel safely, CEMO can offer you a variety of filling stations and tank systems to meet your needs. From handy solutions for your own requirements to steel tanks for construction, agriculture and forestry; we can supply you with tailor-made options.

CEMO is Germany's market leader in the field of legally-compliant complete systems for independent filling stations. We offer filling stations and fuelling systems for diesel, gasoline and AdBlue® / DEF / ARLA 32, which can ensure your supply of fuels even away from filling stations, while meeting the high safety standards and necessary legal requirements.
Filling stations and tank systems for diesel, petrol and AdBlue® / DEF / ARLA 32
CEMO can provide you with both stationary and mobile filling stations and tank systems for a variety of fuels. It goes without saying that our products comply with all the legal requirements, which differ depending on the type of fuel. For example, explosion pressure resistance, flame arresting and water hazard classes play a role in the fitting-out of filling stations and tank systems. And we can offer you the right solution for more than just diesel and petrol. We also supply filling stations in various designs for urea AdBlue® / DEF / ARLA 32.

To go with our filling stations and tank systems, CEMO also offers hand electric pumps featuring various flow rates.
Storage in accordance with requirements and easy handling with CEMO tank systems
CEMO's filling stations and tank systems not only guarantee the safe storage of fuels in accordance with requirements, but are also convincing in terms of installation and handling. Our extensive range features both stationary and mobile versions as well as tank systems for indoor and outdoor use. Practical fuel trolleys also ensure maximum flexibility.

CEMO can provide you with filling stations and tank systems made of GRP, PE or steel with or without ADR approval for the transportation of dangerous goods. You can also choose between different sizes and volumes - whatever is practical for your business and suits the conditions on-site.

Ensure the protection of both people and nature when refuelling your vehicles with tank systems and filling stations from CEMO.