Refuelling
Filling stations from CEMO
Whether in the workshop, in the hangar or outside, CEMO's filling stations are protected by patent, secure every filling process and can be upgraded by means of a range of convenient extras. The simple operation, the technical finesse and the durable materials make our filling stations sustainable and economical companions. Thanks to how they are designed and function, they reliably protect floors, walls and our environment from contact with water-polluting fuels.
To the product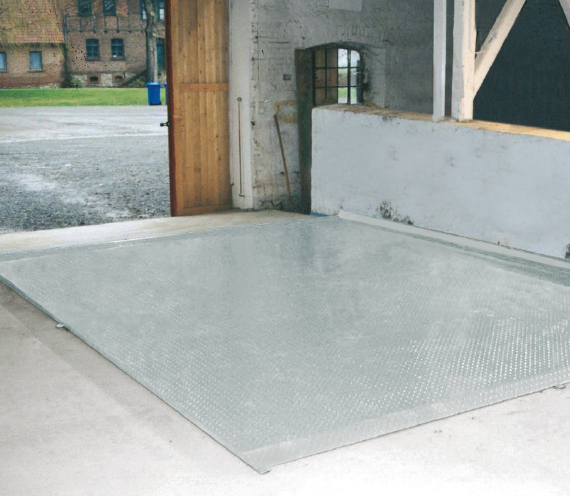 Filling surfaces for refuelling in accordance with regulations
For outdoor installation, we have developed a foldable filling surface that complies with all the requirements. Spilled fuel is reliably retained and can be easily removed via the collecting chute when folded up. With a compact design, electric chain hoist and a non-slip surface, our filling surfaces can be set up in just one day and are ready for immediate use.
The compact filling surface with splash protection wall is transportable and can support you reliably during all operations on the road. The ramped edges, the accessible and anti-slip surface and the compact design make the compact filling surface a reliable companion on construction sites, road shows or off-road. As a basic version, it is also available without splashboard and collision protection.

Separate the storage and charging of lithium batteries
Perfect protection with safe storage and transportation systems from CEMO.
To the article

DT-Mobil COMBI - Refuel always and everywhere
Make yourself independent with a mobile COMBI filling station for diesel and AdBlue®.
To the article
Stationary and mobile filling stations and tank systems from CEMO
Being able to refuel independently of the filling station network, both at your own premises and in remote locations, means comfort and safety and offers numerous practical advantages. With a view to storing and transporting your fuel safely, CEMO can offer you a variety of filling stations and tank systems to meet your needs. From handy solutions for your own requirements to steel tanks for construction, agriculture and forestry; we can supply you with tailor-made options.

CEMO is Germany's market leader in the field of legally-compliant complete systems for independent filling stations. We offer filling stations and fuelling systems for diesel, gasoline and AdBlue® / DEF / ARLA 32, which can ensure your supply of fuels even away from filling stations, while meeting the high safety standards and necessary legal requirements.
Filling stations and tank systems for diesel, petrol and AdBlue® / DEF / ARLA 32
CEMO can provide you with both stationary and mobile filling stations and tank systems for a variety of fuels. It goes without saying that our products comply with all the legal requirements, which differ depending on the type of fuel. For example, explosion pressure resistance, flame arresting and water hazard classes play a role in the fitting-out of filling stations and tank systems. And we can offer you the right solution for more than just diesel and petrol. We also supply filling stations in various designs for urea AdBlue® / DEF / ARLA 32.

To go with our filling stations and tank systems, CEMO also offers hand electric pumps featuring various flow rates.
Storage in accordance with requirements and easy handling with CEMO tank systems
CEMO's filling stations and tank systems not only guarantee the safe storage of fuels in accordance with requirements, but are also convincing in terms of installation and handling. Our extensive range features both stationary and mobile versions as well as tank systems for indoor and outdoor use. Practical fuel trolleys also ensure maximum flexibility.

CEMO can provide you with filling stations and tank systems made of GRP, PE or steel with or without ADR approval for the transportation of dangerous goods. You can also choose between different sizes and volumes - whatever is practical for your business and suits the conditions on-site.

Ensure the protection of both people and nature when refuelling your vehicles with tank systems and filling stations from CEMO.