Storage of hazardous substances
Store safely on Euro pallets: Let's go!
1200 mm x 800 mm x 144 mm: The Euro pallet or Europool pallet is one of the most popular reusable pallets in Europe. The wooden pallet standardised in accordance with EN 13698-1 allows space-saving storage and safe transportation. Let us show you what you need to take into account when storing dangerous goods on a traditional pallet.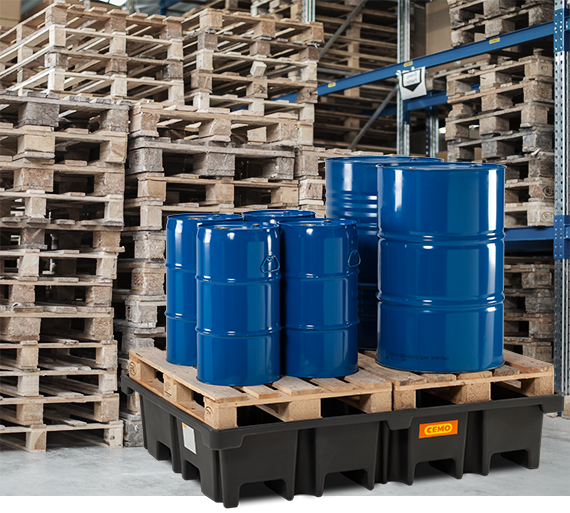 Only use intact pallets!
Broken board, illegible EPAL number plate, missing block: this is not what a Europool pallet us supposed to look like. In the case of damage like this, the pallet needs to be replaced or disposed of:
A board is missing or broken.
More than two boards are chipped off, so that more than one nail or screw shaft is visible.
A block is missing or split, so that more than one nail or screw shaft is visible.
Important characteristics are missing or illegible.
Note the payload!
A Euro pallet can withstand between 1,000 and 1,500 kg. This depends on the distribution of goods on the pallet. A weight of 1,000 kg should not be exceeded for selective loading. If several products are evenly distributed on the pallet, the payload increases to 1,500 kg.
Load properly!
Safety is the be-all and end-all - even when loading Euro pallets. Make absolutely sure that the goods are properly secured, e.g. with tension belts. Distribute the weight evenly on the pallet to prevent it from tipping over.
Outer packaging such as film protects the goods on the pallet and makes transportation easier.
Consider the storage location!
To save space in the warehouse, pallets are often stored outdoors. Remember that wind and weather can affect Euro pallets. For this reason, check them regularly for weather damage and note that the stored goods can be more heavily damaged or even damaged by rainwater.
Use pallet drip trays!
Drip trays are required for the safe and proper storage of hazardous substances. Pallet drip trays enable convenient and space-saving storage, as Euro and industrial pallets can be positioned directly on them.
The new pallet and drum drip trays from CEMO

Separate the storage and charging of lithium batteries
Perfect protection with safe storage and transportation systems from CEMO.
To the article

DT-Mobil COMBI - Refuel always and everywhere
Make yourself independent with a mobile COMBI filling station for diesel and AdBlue®.
To the article
Safe storage of hazardous substances with products from CEMO
The protection of people and nature is a top priority for CEMO. This is why the safe storage of hazardous substances, such as fuels and lubricants, lies at the heart of everything we do. CEMO develops products for the storage of hazardous substances that meet all the legal requirements and combine safety with practical use and excellent manageability.

As a pioneer in the field of hazardous materials storage, you can expect modern storage container technology, the highest quality and excellent service from us. We understand the requirements that apply to the materials you need to store and can supply you with a product that is tailor-made to your needs.
Legal requirements for the storage of hazardous substances
Highly flammable, toxic, corrosive, explosive and harmful substances are considered hazardous substances and are subject to special legal requirements. Since such substances are used in numerous industrial plants, the safe storage of hazardous substances is a relevant topic across all sectors.

Laws, standards and accident prevention regulations are there to ensure the proper handling of hazardous substances. Depending on the substance, quantity and hazard assessment, different safety measures need to be taken. The separate storage of flammable materials and the use of storage techniques that comply with legal regulations and design approvals are always part of the requirements. CEMO has been active in the field of hazardous material storage for decades and is therefore a proven expert in the production of safe and legally-compliant storage techniques.
The wide range of CEMO products for the safe storage of hazardous substances
We can provide you with an extensive range of diverse products for the safe storage of hazardous substances that meet all the legal requirements. From drip trays, barrel racks and tanks to cabinets and containers, CEMO can supply you with the right solution for every need. We have the appropriate storage technology for both indoor and outdoor applications.

Our products made of GRP, PE and steel meet all the safety requirements and thus enable you to store hazardous substances in accordance with regulations and in a space-saving manner. We also supply accessories and extension units to match our storage technology.

Our team will advise you in all questions concerning the storage of hazardous substances and offer you a comprehensive service. Trust in the experience and know-how of CEMO when it comes to the storage of hazardous substances.